by RYAN MILEJCZAK
Fall is just around the corner, and that means soon it will be time for more comfortable
temperatures, the joy of Halloween, and, most exciting of all, the arrival of delicious pumpkin
spice treats. But for health-conscious folks, the temptation of pumpkin spice can cause some
internal conflicts. It does account for some of the most delicious treats of the year, after all…
and they're almost all loaded with sugar.

Thankfully, there's no need to despair: There are plenty of healthy pumpkin spice recipes you
can enjoy without the guilt. With less sugar and more healthy nutrients, protein, and fiber, these
healthy pumpkin spice recipes are perfect for fulfilling those fall cravings without overloading on
sugar and carbs.

The secret ingredient for today's recipe is canned pumpkin puree. Be careful when shopping;
this is not the same as canned pumpkin pie filling, which contains sugar and flavorings. Be sure
to get plain pumpkin puree, or your recipes will come out too sweet.

Let's take a look at three tasty (and healthy!) pumpkin spice recipes. Plus, we've even included
a bonus recipe so you can make your own pumpkin pie spice blend at home.
High Protein Baked Pumpkin Pie Oatmeal
(Adapted from Breathe, Sweat, Eat)
Ingredients:
● 1 cup old fashioned oats
● 1 tsp baking powder
● 1/2 cup egg whites or 2 whole eggs
● 1 cup unsweetened vanilla almond milk (or any milk of your choice)
● 15 oz can pumpkin puree
● 2 tsp pumpkin pie spice
● 4 scoops protein powder
● 4 tbsp chocolate chips milk or dark chocolate
Instructions:
First, preheat your oven to 350 degrees. While it preheats, mix together all ingredients except
for the chocolate chips in a large mixing bowl. Whisk until all lumps are gone and batter is fairly
smooth. Then, mix in half (2 tbsp) of the chocolate chips to the mixture.
Grease a 9×9 pan and pour in the batter, sprinkling remaining chocolate chips on top. Bake at
350 for 50 minutes to an hour, until the oatmeal is thoroughly cooked (to check, stick a clean
toothpick into the center of the oatmeal; if it comes out clean, the oatmeal is done baking). Let
cool for at least 10 minutes, then cut into pieces.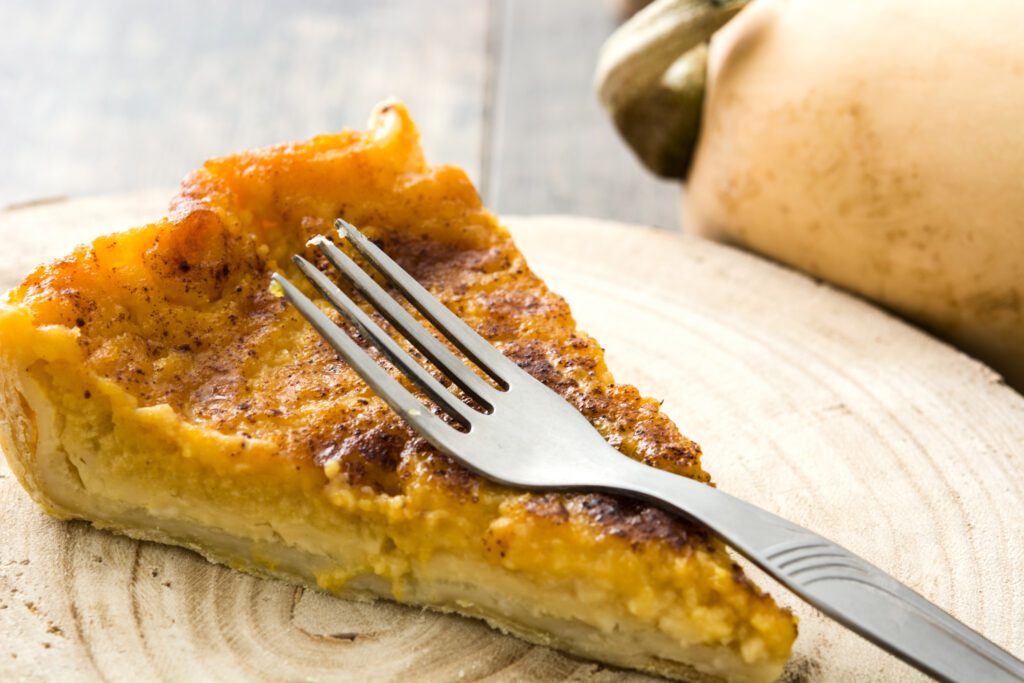 Low-Calorie Crustless Pumpkin Pie
(adapted from Foodie Fiasco)
Ingredients:
● 1 (15 oz.) can pure pumpkin
● ½ cup half + half or coconut milk
● 2 egg whites
● ¾ cup sugar (or equivalent amount sugar substitute)
● 2 teaspoons pumpkin pie spice
Instructions:
First, preheat your oven to 350 degrees. Next, grease an 8 inch pan and set it aside.
In a large bowl, combine all ingredients and whisk until everything is well combined. Pour the
mixture into the greased pan and bake at 350 for about 50 minutes, until the pie is mostly firm to
the touch. Carefully remove the pie from the oven, then set it in the fridge to cool and finish
firming up for at least two hours.
Once the pie is firm, remove it from the fridge, cut into slices, and serve. Optionally, top each
slice with low sugar or sugar free whipped cream.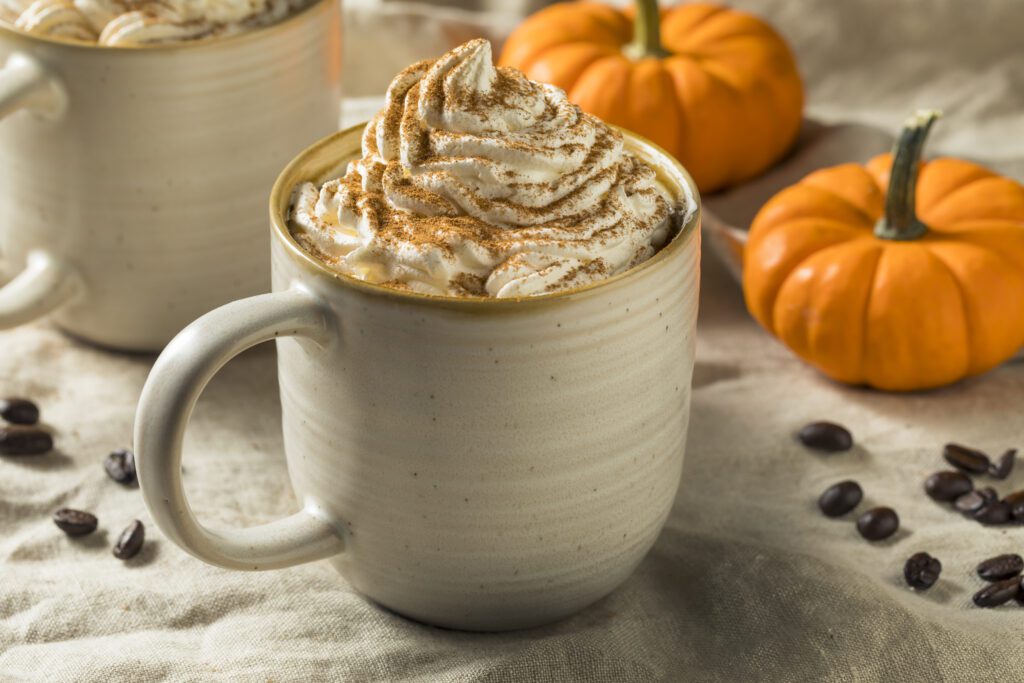 Healthy Homemade Pumpkin Spice Latte
(adapted from Eating Bird Food)
Ingredients
● 8oz strong black coffee (can sub with same amount cold brew or 1-2 shots espresso)
● 3 tbsp pumpkin puree
● 2 tsp maple syrup (or sweetener of your choice)
● ½ tsp pumpkin spice blend
● ½ tsp vanilla extract
● 1/2 cup nonfat milk or milk substitute
Instructions
First, mix together the milk and pumpkin puree in a small saucepan. Cook on medium heat,
whisking constantly, until the mixture starts to simmer. Alternatively, you can microwave the
mixture for 30-45 seconds.
Remove the mixture from the heat and mix in the vanilla, spices, and sweetener, then place the
mixture in a cup. Using a frother or handheld blender, process the mixture for 30 seconds or
until foamy.
Next, pour your coffee into a large mug. Top it with the foamy film mixture. Garnish with a
sprinkle of cinnamon or nutmeg on top and enjoy.
BONUS RECIPE! Homemade Pumpkin Pie Spice Blend
(adapted from The Pioneer Woman)
Ingredients
● 3 tbsp ground cinnamon
● 2 tsp. ground ginger
● 2 tsp. nutmeg
● 1 1/2 tsp. ground allspice
● 1 1/2 tsp ground cloves
Instructions
Combine all ingredients in a small bowl and whisk them together until well mixed. Once mixed,
transfer the spice blend to a small jar or shaker, using a funnel if needed. Store the blend
somewhere cool and dry for up to three years.