This edition of Central Florida Health News magazine is full of valued insight on how to take offensive action for your health when it comes to preventing illness, injury, and chronic disease. You'll find key observations on home safety against accidental falls that could result in physical and life impairment; the benefits of having and participating in a work wellness program; and the very real risks to your health if you don't get vaccinations for influenza or Pneumonia.
In addition to these important topics, Dr. Dale Wickstrom, the owner of Perfect Form Wellness and Anti-Aging clinic and a Polk County Medical Association member, shares some news about an initiative they will be hosting called the First Responders Challenge. I encourage you to read more about this program, and find out how the volunteers and participants are working to help combat obesity and increase the health of our neighbors and friends.
Here at Central Florida Health News magazine, we give you the tools you need to make a difference in your own health, and for your loved ones. Throughout the year, the Polk County Medication Association (PCMA) works to bring you the latest news about healthcare, plus prevention tips and nutrition strategies. We hope to encourage you because we know living a healthy lifestyle requires a commitment. It's no different than it is with relationships or anything in life: We need to work on it.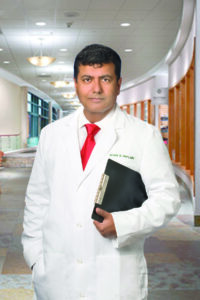 So, as we celebrate the holidays and close out another year, take time to relax. Keep your home safe by assessing areas that could be a risk for family members to experience a dangerous fall. Remember to keep active. Remember moderation, and especially remember what this season is all about. Enjoy this special time with family and friends.
Know that we at the PCMA and Central Florida Health News magazine remain committed to help you live the healthiest lives you can. We wish everyone a healthy holiday season, and best wishes for the New Year.
Sincerely,
Arvind B. Soni, M.D.
Director of Radiation Oncology
St. Joseph's Hospital, BayCare Health System
President, Polk County Medical Association