On February 27, we held a very informative seminar for our members and local industry professionals.  Over dinner at Grasslands Country Club, attendees were able to here from experts on the upcoming ICD-10 conversion.  Presenters included Mary Ellen Schmitt, IT/computer coordinator at Polk State College; Judy Monestime, MBA, CDIP, CPC~AHIMA approved ICD-10-CM/PCS trainer and vice president of consulting with the CodeSmart Group; as well as Steve Carr, assistant director of business services with Polk Works.  We'd like to extend our thanks to these presenters for their informative presentations on a topic that is one of our top priorities for 2014.
If you were not able to attend the event, then you certainly missed a very enlightening evening, but you can rest assured that there will be others seminars and socials in the near future to keep you plugged in to the latest developments on relevant issues to our industry.  In fact, one such opportunity is coming this month.  On March 14 at 6 p.m., we will be holding a Spring Social at Fields Motocars in Lakeland.  Both members and non-members are invited to attend, and this provides an advantageous opportunity to network with colleagues as well as get to know some of us at the PCMA.  For more information or to RSVP, please contact Jackie Courtney at (863) 644-4051 or email director@polkcountydoctors.com.
Like the socials and seminars we host, the pages of Central Florida Doctor offer essential information to keep you plugged in to the medical community.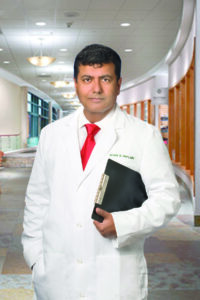 With all the changes happening to our healthcare system through the Affordable Care Act, it's already having a big impact on how we provide care.  In this edition some local experts provide their perspective on how these changes are affecting their practice or organization.
I'd also like to thank Dr. Ulyee Choe, the director of the Florida Department of Health in Polk County, for providing us with a community update on the 2013-14 flu season.  By keeping informed, we can best serve and educate our patients about the importance of receiving a flu vaccine.
Sincerely,
Arvind B. Soni, M.D.
Director of Radiation Oncology
St. Joseph's Hospital, BayCare Health System
President, Polk County Medical Association