by CAROL CORLEY
We think of grilling as quintessentially American. Fire up the coals in the grill, place the meat on the cooking grates, and welcome friends and neighbors who are bringing side dishes to share. Dad is the cook, of course.
Grilling dates to the Paleolithic era, according to food52.com. That takes it back maybe 2.5 million years, to as recent as 10,000 BC, reported by history.com.
Some scientists feel that grilling played a crucial role in human evolution. Harvard University professor of anthropology and primatology Dr. Richard Wrangham explains that eating meat, with its high protein, made it possible for early humans to use energy to grow large brains instead of spending all their energy chewing and digesting plants, much like cattle do. Since human teeth couldn't handle raw meat, cooking was necessary.
Regardless of its origins, we've certainly perfected the concept of backyard grilling.
Americans might throw a huge steak or beefy burgers on the grill, but Middle Eastern countries favor kebabs — small pieces of lamb or beef on a skewer. While kebabs have gained popularity in the U.S., as well, we use spices that are very different from those in the Mideast.
To make kebabs in the U.S., consider fish, beef, chicken, and lamb. And don't forget to get the youngsters involved. They can even make dessert.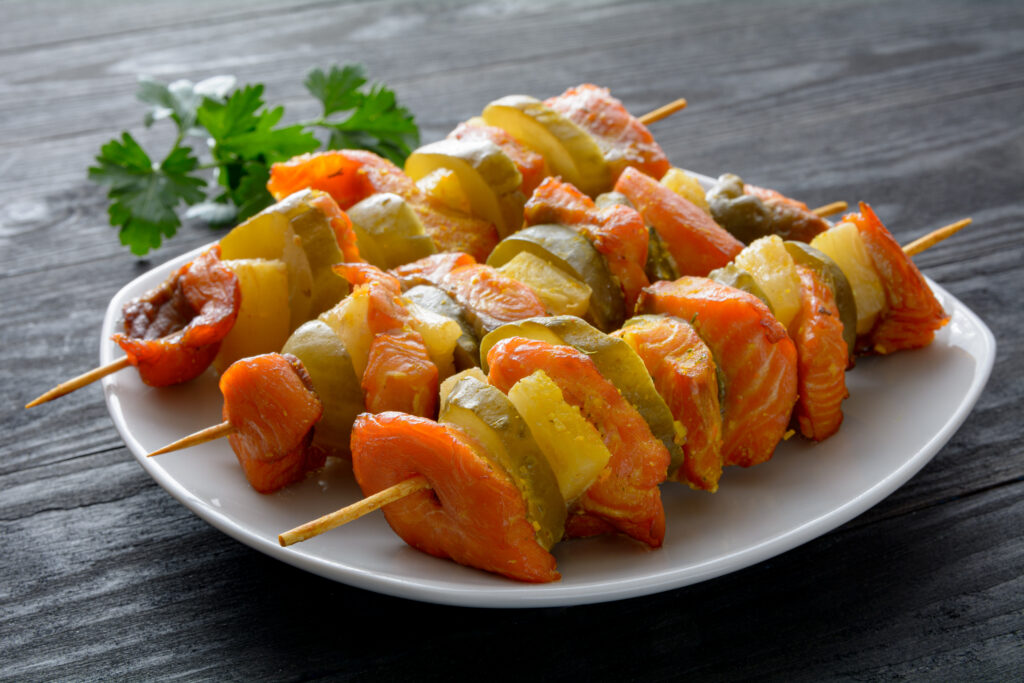 Pineapple Salmon Skewers
(Adapted from delish.com)
Ingredients:
Salmon, 1 pound
Pineapple, 3 cups
Olive oil of choice, 3 tablespoons
Toasted sesame oil, 2-1/2 teaspoons
Sweet chili sauce, 2 tablespoons or more to taste
Ginger, 2 teaspoons freshly grated
Garlic, 2 cloves minced
Red pepper flakes, 1/2 teaspoon or to taste
Salt to taste
Garnish: toasted sesame seeds, thinly sliced green onions, and lime wedges
Directions:
Cut salmon into evenly sized cubes, then skewer pineapple and salmon pieces, alternating. Use wooden skewers that have been soaked in water. Place on a large baking sheet.
Meanwhile, whisk together olive oil, sesame oil, chili sauce, red pepper flakes, garlic, ginger, and salt to taste. Brush combined sauce over salmon-pineapple skewers, then place skewers on the grill.
Cook until salmon is cooked through, about 8-10 minutes, turning once. Continue brushing with remaining sauce through cooking.
Garnish with green onions and sesame seeds, and serve with lime wedges.
Grilled Tandoori Chicken Kebabs
(Adapted from culinaryginger.com)
Ingredients:
Chicken breasts, 4 boneless and skinless
Indian red chili powder, 2 teaspoons or to taste
Olive oil, 2 tablespoons
Salt to taste
Greek yogurt, 4 tablespoons
1 teaspoon each Indian red chili powder again, fresh grated ginger, turmeric
1/2 teaspoon each garam masala, ground coriander, cumin, cardamom
1/4 teaspoon each cinnamon and ground nutmeg
Black pepper, pinch, works with the turmeric
Garlic clove, 1 peeled and grated
Lemon, juice of 1
Directions:
Create a paste with red chili powder, salt and oil, then massage half the paste over the chicken, which has been cut into large pieces and set aside.
Take the remaining chili paste and add the rest of the ingredients, mixing well. Coat the chicken well, cover and allow to marinate at room temperature for 30 minutes.
Thread chicken pieces onto skewers and grill on high heat on a grill that has been preheated, about 5-8 minutes per side until cooked through and internal temperature of meat reaches 165F.
Lamb Kebabs
(Adapted from themediterraneandish.com)
Ingredients:
Leg of lamb, 1-3/4-pound boneless
Salt and pepper to taste
Onion, 12 medium
Garlic cloves, 5
Olive oil, 1/3 cup
Allspice, 1 teaspoon
2/3 teaspoon each nutmeg and cardamom
Parsley, 1 cup fresh, packed
Lemon, 1, juice and zest
Directions:
Combine onion, garlic, spices, parsley, olive oil, lemon juice in a food processor fitted with a blade, and liquify until all finely chopped and it becomes a thick marinade.
Pour marinade over lamb, which has been cut into 1-inch pieces and seasoned with salt and pepper. Coat lamb well with marinade. Cover and refrigerate for 2 hours. (If in a hurry, it can marinate at room temperature for no longer than 30 minutes.)
Thread lamb pieces on long skewers, allowing space between pieces, and shaking off excess marinade. Use wooden skewers that have been soaked in water. Grill on grates that have been preheated and brushed with oil.
Grill lamb kebabs on high heat, turning each 1/4 turn every 2-3 minutes until browned evenly, about 7 to 9 minutes, depending on how well done you like your lamb. I like mine medium rare. Sprinkle zest at the end.
Dessert Kiddie Kebabs
(Adapted from foodnetwork.com)
Ingredients:
Brownie bites, 6
Marshmallows, 6
Strawberries, 12
Chocolate syrup for garnish
Directions:
Using 6 skewers, assemble using for each: 1 strawberry, 1 marshmallow, 1 brownie bite, and end with 1 strawberry. Place on a serving platter and drizzle with chocolate syrup.