by CAROL CORLEY
At all of life's stages, it is important to keep our bodies healthy by making smart food choices. But perhaps that's even more critical for seniors in order to make up for a few decades of fun and carelessness.
Eating healthy means giving up empty calories except for the occasional treat and focusing on lean protein, colorful fruits and vegetables, and whole grains, which can include barley, bulgur, quinoa, brown rice, even oatmeal and popcorn. The National Institute of Health warns to avoid added sugars, saturated fats, and sodium.
Any major change in diet should involve a discussion with your physician, since health conditions can dictate choices. Some conditions that seniors should be mindful of include hyponatremia, diabetes, high blood pressure, heart disease, stroke, osteoporosis, and even dementia, which could further affect food needs.
Older adults generally need fewer calories due to cutting down on activities. But those who are very physically active through sports and exercise would need more calories than their sedentary neighbor.
Much of dietary information for older adults is controversial. For example, studies show eating red meat can lead to cardiovascular disease, as Cleveland Clinic reports. However, an Australian study notes a diet rich in red meat helps preserve the health of older people.
According to the Jean Mayer USDA Human Nutrition Research Center on Aging at Tufts University, recent research shows moderately high protein intake is necessary for maintaining nitrogen balance and offsetting age-related lower energy and impaired insulin action.
To help with the decision-making, the USDA has put out My Plate, which replaces the old food pyramid. In My Plate, half the plate should be fruits and vegetables, half the plate should be grains and protein, and dairy is extra. Protein would include meat, poultry, fish, egg, cooked beans, peanut butter, nuts and seeds. Adult women at all ages are recommended to consume 5-6 ounces of protein per day, and adult men up to age 60 should have 6-7 ounces, and half an ounce less once over the age of 60. The National Institute on Aging recommends a Mediterranean-style eating plan that emphasizes vegetables, fruits, nuts, seeds, legumes, whole grains, fish and seafood, poultry, eggs, dairy, and healthy fats like olive oil and avocados.
So how can we navigate the difficult waters of food planning for the older crowd while still enjoying our meals? Let's start with a healthy, tasty, easy-to-prepare entrée like roasted salmon, with colorful roasted vegetables as a side and maybe a dessert. Our choice uses almond milk, which has slightly less protein but contains Vitamin D and works for people who are lactose intolerant.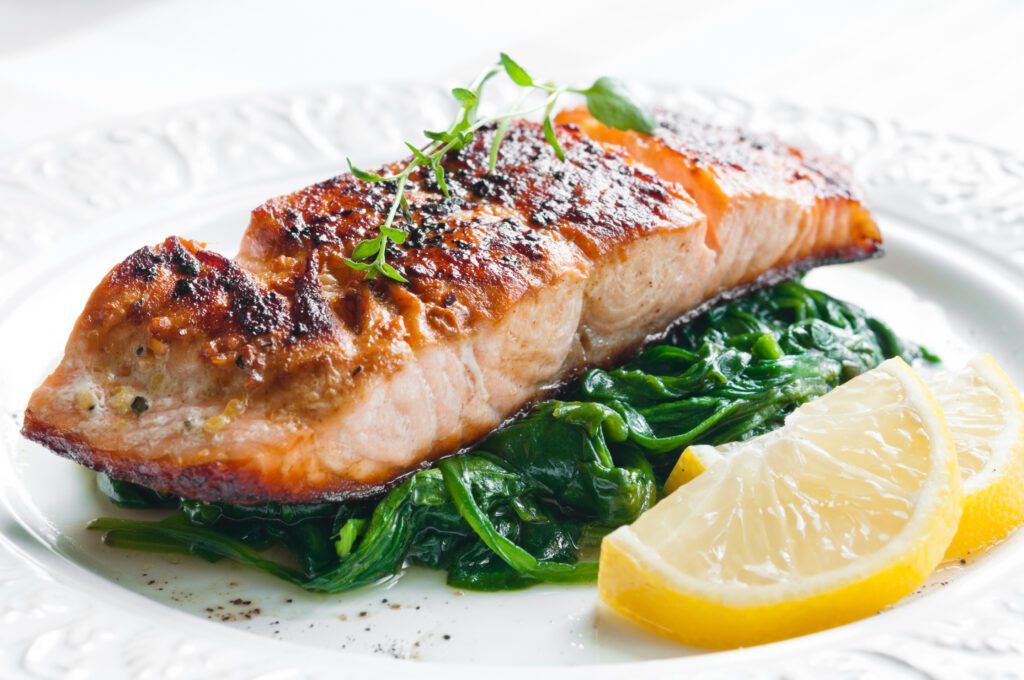 Lemon-Herb Roasted Salmon
(Adapted from foodnetwork.com)
Ingredients:
Salmon filets, 4 skinless
Dill and parsley, 1 tablespoon each chopped fresh
Lemon, 3/4
Butter, 1-1/2 tablespoon unsalted cut into 4 pieces
Olive oil for foil
Salt and pepper to taste
Directions:
Using a rimmed baking sheet, line with foil and brush with olive oil. Place salmon filets on the sheet, spaced evenly. Sprinkle with salt and pepper and bake about 8-12 minutes in an oven preheated to 450 F until opaque and slightly firm to touch. You don't want to overcook. Remove and plate filets, topped each with a pat of butter and sprinkle with lemon juice, herbs, and salt and pepper to taste. Serve hot or at room temperature. Leftovers can be tasty cold.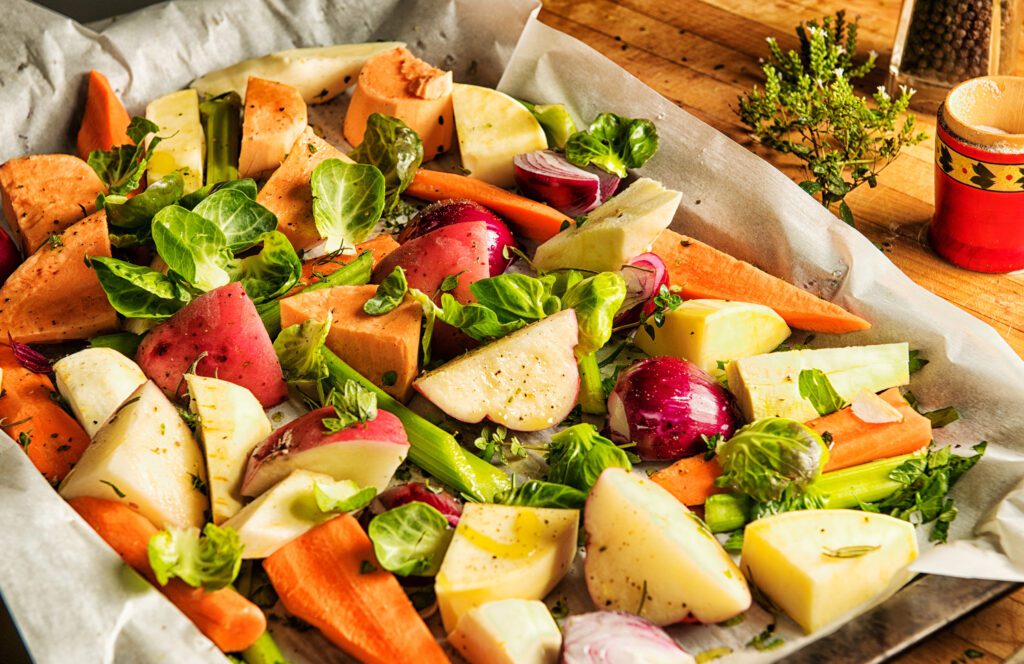 Colorful Roasted Sheet-Pan Vegetables
(Adapted from eatingwell.com)
Ingredients:
Butternut squash, 3 cups cubed
Broccoli florets, 4 cups halved
Bell peppers, 2 each red and green, cut into squares
Red Onion, 1 large, cut into bite-sized pieces
Olive oil, 3 tablespoons extra virgin, divided
Herbes de Provence or Italian seasoning, 2-1/2 teaspoons
Balsamic vinegar, best quality, 1 tablespoon
Salt and pepper to taste
Directions:
In a large bowl with 1 tablespoon olive oil, toss squash then spread on a large-rimmed baking sheet. Then toss broccoli, bell peppers and onion in flavorings in the same bowl, including the remaining olive oil. Add squash back into the bowl and toss all together. Spread vegetables on 2 large-rimmed baking sheets and roast until tender and browned in spots — oven 425 F for 17-20 minutes. Drizzle with vinegar when finished. Vegetables can be refrigerated for up to 3 days.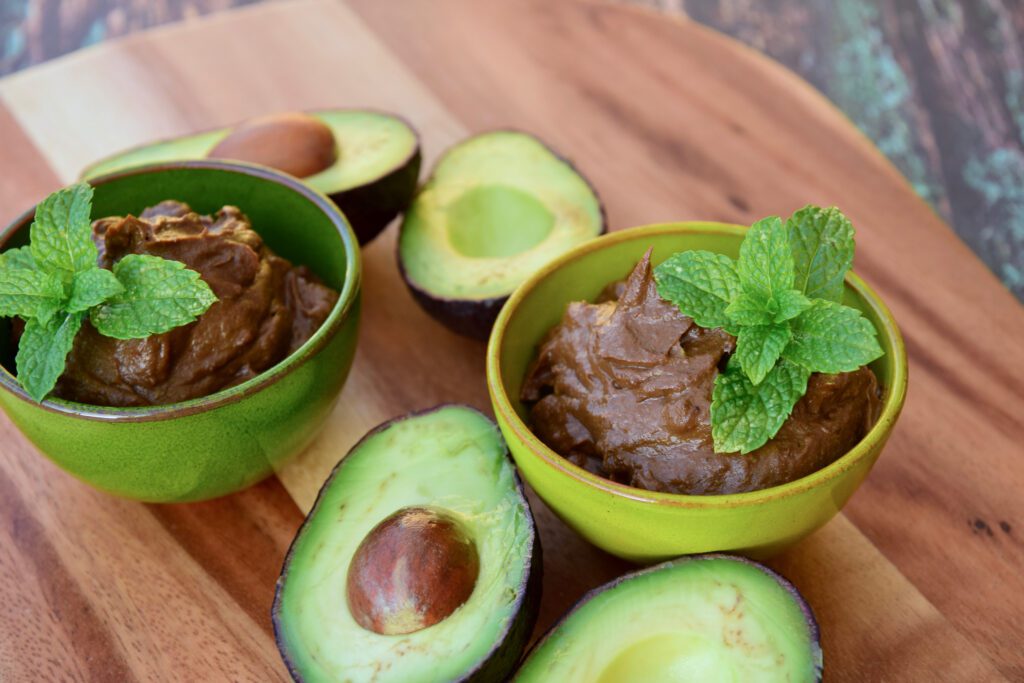 Easy Chocolate Avocado Pudding
(Adapted from makingthymeforhealth.com)
Ingredients:
Cocoa powder, 4-1/2 tablespoons
Avocados, 2 ripe, pits removed
Almond milk, 1/2 cup or more if needed
Maple syrup, 4 tablespoons pure
Vanilla extract, 1 teaspoon pure
Hemp seeds, 1 tablespoon if desired
Directions:
Process all ingredients together in a food processor and blend until smooth. Taste to see if you prefer more chocolate or more sweetness. Transfer to an airtight container for storing and refrigerate for up to 4 days. Serve chilled with whipped cream (coconut recommended) and favorite toppings.