4 Holiday Drinks to Get You In the Festive Spirit (Without the Booze)
by RYAN MILEJCZAK
One of the best parts of the holidays is enjoying all the delicious food and drinks. But many of the most popular holiday drinks are alcoholic. Delicious as these are, if you're abstaining from alcohol or simply trying to cut back, finding an appropriate drink for your holiday celebrations can be difficult.
Thankfully, it doesn't have to be. Let's take a look at four delicious holiday mocktails that will get you in the holiday spirit minus the booze.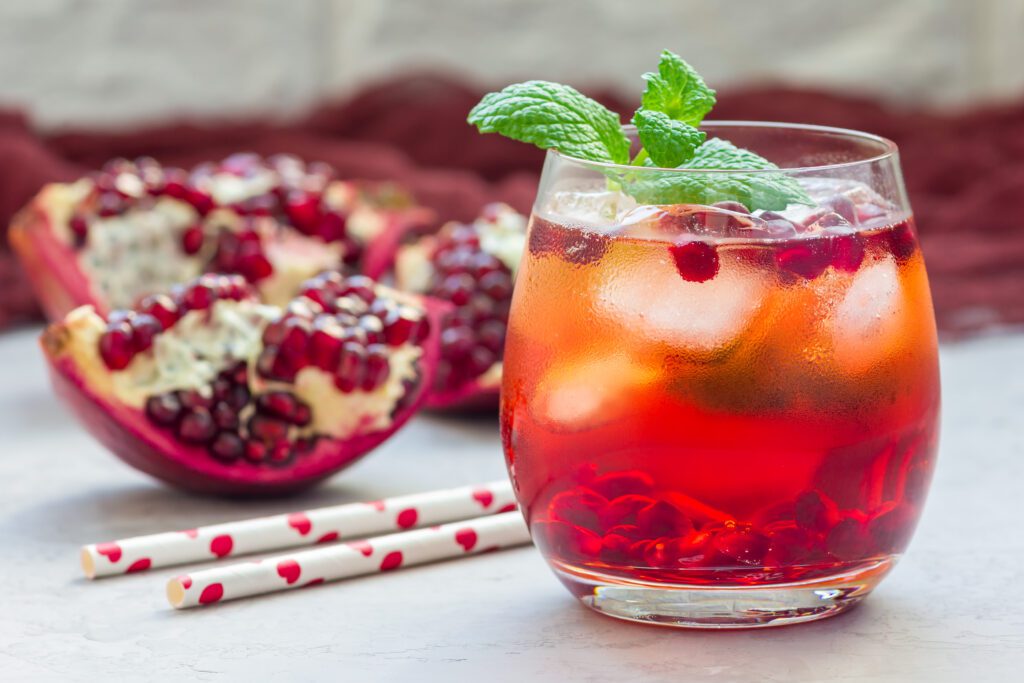 Holiday Mojito Mocktail
Adapted from Pretty Life Girls
With festive shades of red and green, this holiday mocktail is a perfect Christmas treat. Plus, it features classic holiday flavors like cranberry and pomegranate. Even better, the cranberry and pomegranate provide essential nutrients, antioxidants, and even compounds that can help prevent disease.
Ingredients
3 tbsp Sugar (can sub ⅛ tsp stevia powder)
3 tbsp water
12-18 sprigs of mint
2 tbsp lime juice
2 oz pomegranate juice
2 cans Ginger Ale
Ice
Instructions
Add sugar or stevia, water, and fresh cranberries to a small saucepan, simmering on low for about 5 minutes. The cranberries should start to burst and the sauce should start to thicken. Set aside to cool.
In 4 low ball glasses, add mint and lime and muddle together. Add ice to your preference.
Add ginger ale, pomegranate juice, and cranberry reduction to each glass, stirring gently. Garnish with mint, lime, and cranberry and serve immediately.
---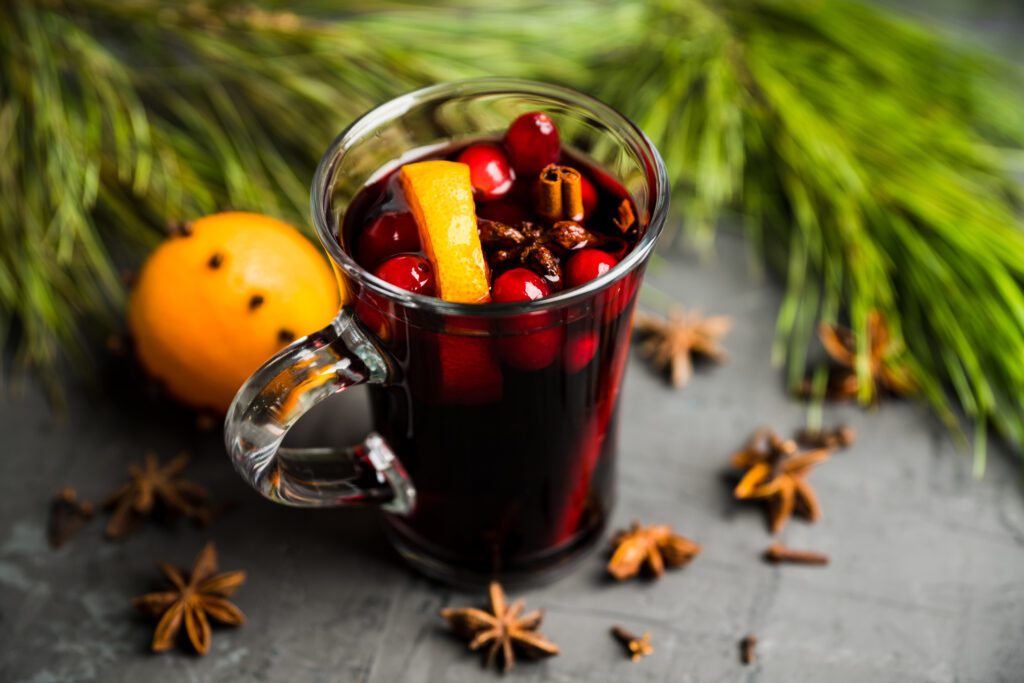 Cranberry Apple Spiced Cider
Adapted from Betty Crocker
Few things are better in the cooler months than hot apple cider to warm you up. While many hot ciders are spiked, this recipe does away with the alcohol for a drink that's just as delicious and better for you.
Ingredients
2 quarts apple cider
2 ½ quarts no sugar added cranberry juice
¼ cup brown sugar
4 sticks of cinnamon
1 ½ tsp whole cloves
1 orange, thinly sliced
Instructions:
In a large saucepan, mix all ingredients except orange slices and bring to a boil.
Reduce heat and simmer uncovered for 15 minutes. Strain or remove solid ingredients.
Serve hot with an orange slice for garnish.
---
Apple Cider Fake-Tini
Adapted from Rachel Cooks
If you want a holiday mocktail that would be right at home at your favorite cocktail bar, it's hard to beat this apple cider fake-tini. It combines apple cider, cinnamon, and ginger for a deliciously warming mocktail, and is served in a martini glass for an extra touch of class.
Ingredients
2 tbsp cinnamon-ginger simple syrup (recipe below)
1 cup chilled apple cider
Ice
Cinnamon sugar
Apple slice or cinnamon stick
Instructions
Cinnamon-Ginger Simple syrup
Mix 1 cup sugar, 1 cup water, 2 cinnamon sticks, and 1-2 inches of peeled and sliced ginger root in a small saucepan over medium heat. Stir until sugar has fully dissolved.
Let cool completely and strain ginger and cinnamon sticks.
Mocktail
Prepare martini glass by wetting the rim with apple cider, then dipping it into cinnamon sugar.
In a cocktail shaker or mason jar, add ice, cider, and simple syrup. Shake for about 15 seconds.
Strain into prepared glass and garnish with an apple slice or cinnamon stick.
---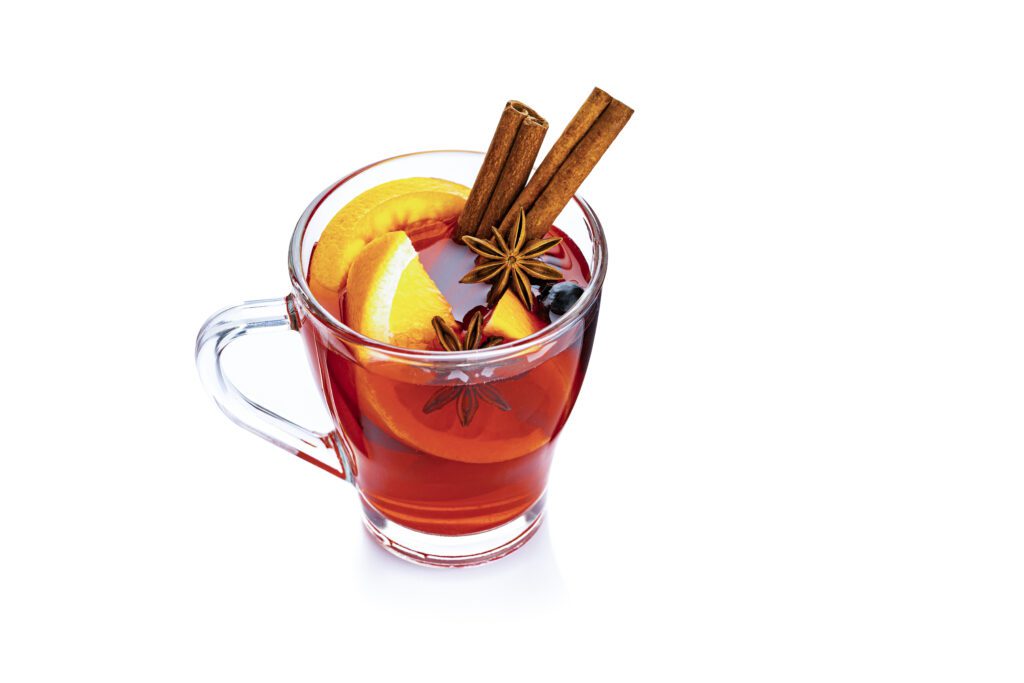 Non-Alcoholic Mulled Wine
Adapted from Mindful Mocktail
Mulled wine is one of the most iconic holiday beverages. But how the heck do you make it non-alcoholic, when it has wine right in the name? In fact, you have two options here: a mix of pomegranate and cranberry juice or a non-alcoholic wine.
Ingredients
1 750 Ml bottle of non-alcoholic wine
OR
2 cups pomegranate juice, 2 cups cranberry juice, 2 cups water
8 cloves
6 blackberries
1 cinnamon stick
3 star anise
1 sliced orange
Brown sugar to taste
Instructions
Add all ingredients together in a large saucepan and bring to a low boil over medium-high heat
Turn down the heat to low and simmer for at least 20 minutes, up to an hour.
Strain orange slices and spices. Serve hot garnished with a cinnamon stick or orange slice.