In the previous edition of Central Florida Doctor, I expressed how important it is for us as medical professionals to be actively pursuing involvement with our state officials to make sure our voices are heard. Our field is constantly changing and we need to always be aware of that.
In order to stay involved and make waves such as this, it's vital to stay informed with what medical legislation is being brought to the table… Which is why this edition focuses on some of the major health-related legislation that passed and failed during the 2014 Legislative Session, including examples such as the Charlotte Web Law (which passed) and the telehealth bill (which failed). It is important for everyone in the field to stay current on prominent healthcare issues coming down from our legislature, and we at Central Florida Doctor want to help you in any way we can.
Also, I would like to thank our contributing PCMA physicians for their insights on the benefits of starting their medical career in the U.S. Armed Forces. Everyone begins their journey to providing healthcare in different ways, and these physicians agreed to open up about their experience of serving our country while finding their place in the medical field.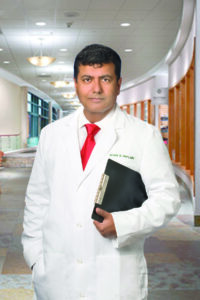 Last, but certainly not least, I would like to remind and encourage you to attend and spread the word about the Annual Casino Night Fundraiser on Saturday, October 25, from 6:30 to 10:30 p.m. Hosted by Fields Motorcars Mercedes Benz in Lakeland, this event is a great way to show your continued support of our local medical community. All proceeds from this event will go towards We Care of Polk County and the Polk County Medical Foundation. For ticket and/or sponsor information, please contact Jackie Courtney in our office at (863) 644-4051.
Sincerely,
Arvind B. Soni, M.D.
Director of Radiation Oncology
St. Joseph's Hospital, BayCare Health System
President, Polk County Medical Association