With general election time and the next open enrollment period for the government healthcare exchange (Affordable Care Act) both barreling towards us in November, the fall is going to be full of changes.
As physicians dedicated to the health of our community, we must make sure our voices are heard— both at the polls on November 4 and to make sure our existing and new patients are being educated about their health insurance options (whether they carry health coverage through their employer, privately, or through the ACA).
The next open enrollment period for the ACA begins November 15. There will surely be questions coming from all sides about the eligibility options and enrollment process, especially since Florida is one of the states where Medicaid coverage was not expanded, resulting in a coverage gap for some lower-income families. You can read the In My Opinion column for this edition of Central Florid Doctor to find out what some physicians and medical experts believe we'll be facing come the open enrollment period.
Lastly, I encourage you to show your support for our Fourth Annual Casino Night fundraiser coming up Saturday, October 25, from 6:30 to 10:30 p.m.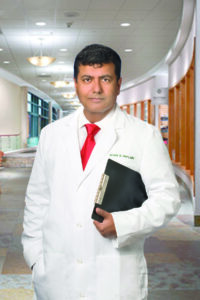 The event is hosted by Fields Motorcars Mercedes Benz, 4141 North Florida Avenue in Lakeland.  It will be a night filled with casino table games (mock money, don't worry!), a silent auction, music, food, drinks, and more!  Proceeds from this event will go straight to We Care of Polk County and the Polk County Medical Foundation.  To discover more about this event and the opportunities to show your support and partake in the festivities, read the article in this edition.  For more ticket or sponsor information, please contact Jackie Courtney in our office at (863) 644-4051 or email director@polkcountydoctors.com.
Sincerely,
Arvind B. Soni, M.D.
Director of Radiation Oncology
St. Joseph's Hospital, BayCare Health System
President, Polk County Medical Association