As part of our continued efforts to raise awareness on important health topics in the region, I'm pleased to announce that we have a special guest columnist for Central Florida Health News magazine. Dr. Ulyee Choe, who is the director of the Florida Department of Health in Polk County, has graciously agreed to keep us abreast of relevant news to your health. As a Polk County Medical Association member, Dr. Choe is one of our many physicians who is dedicated to providing the highest quality of medical care with integrity and compassion.
In this edition, Dr. Choe provides an important update on efforts from physicians and local organizations to stop the upward trend of sexually transmitted diseases (STDs) among residents. Since April is STD awareness month, I encourage you to read this update and learn how you can help yourself and those around you prevent the spread of STDs.
Equally important to the physicians at the PCMA, is to help you live a longer, healthier life. As the annual Senior Health Edition, this issue of Central Florida Health News addresses essential health conditions for you to consider (both for the present and as you age). Some of these topics might be close to home, such as how to help an elderly family member with mobility challenges.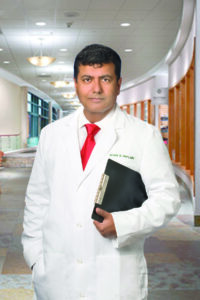 Or, perhaps you have a looming concern, such as the fear of Alzheimer's disease, of which you know little about, but hope to gain more knowledge to prevent for yourself or a loved one. This edition addresses all of these topics and much more.
As PCMA physicians, our mission is to help our patients not only live longer, but remain strong and independent long after their retirement years. We hope you find this edition of Central Florida Health News informative, and as always, your PCMA physicians are here to uphold the highest standards of quality healthcare for you and your loved ones.
Sincerely,
Arvind B. Soni, M.D.
Director of Radiation Oncology
St. Joseph's Hospital, BayCare Health System
President, Polk County Medical Association