Kick the Flu With the Right Ingredients
By CAROL CORLEY
So despite your best efforts, you caught a cold or flu bug and you feel wretched. You don't feel sick enough to go to the doctor, just miserable. Your spouse wants to help but doesn't know what to do.
It turns out, your mother was right. Chicken soup is the first place to turn. The adage of "feed a cold and starve a fever" is just wrong, according to Cleveland Clinic. But fluids are extremely important, especially if you have a fever. Broths of all types and hot herbal teas can help keep the liquids up, and that helps your body recover. Ice pops can also help with a sore throat. They are best if all natural and without added sugars.
Beyond that, as Mom said, leafy greens like spinach, kale and cabbage can help fight inflammation. So can foods high in vitamin C, such as citrus fruits, broccoli, Brussels sprouts, cantaloupe, kiwi, peppers, strawberries, tomatoes, garlic, and even potatoes.
Mom often recommended the BRAT diet (bananas, white rice, applesauce, and toast). That would be especially good for people whose digestive system is out of sorts, but that diet wouldn't help provide needed nutrients to fight the flu or a cold. Other foods to avoid would be alcohol, caffeine, dairy, sugar, and spicy foods.
When you are feeling sick, it is especially important to eat well to support your immune system while it's fighting the tiny invader. While you can't totally prevent getting sick by eating well, good foods might just help your body avoid letting the viruses and bacteria take up residence in your system.
Since most sources, Mom included, agree that chicken soup is a good first step in fighting foods when you have the flu or cold, let's start with a recipe that should help. Plus, we are including a green leafy vegetable and potatoes.
Chicken and Kale Soup
(Adapted from eatingwell.com)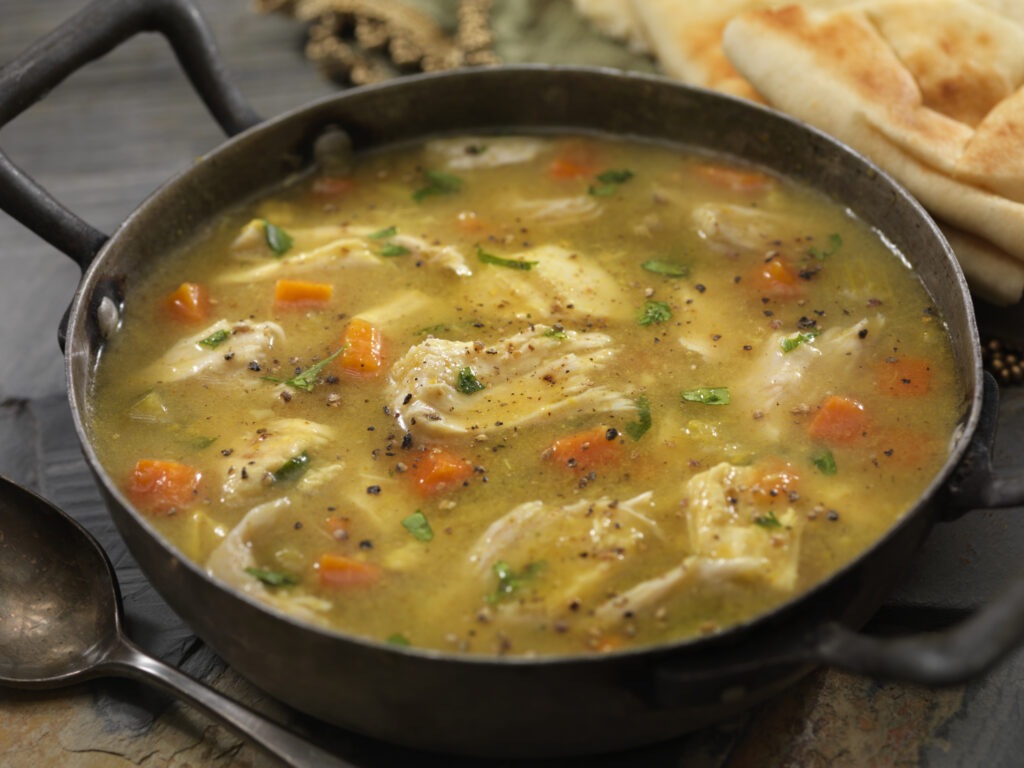 Ingredients:
Chicken breasts, 12 oz boneless, skinless
Chicken broth, 6 cups unsalted
Kale, 3 cups chopped fresh
Potatoes, 2 Yukon Gold peeled and diced
Great northern beans, 1 15-oz can salt-free, rinsed and drained
Onion, 1/2 cup chopped fine
Garlic, 1 tablespoon minced
Lemon juice, 2 tablespoons fresh
Thyme, 3 sprigs
Olive oil of choice, 1 tablespoon
Salt and pepper to taste
Directions:
In a large pan, cook onion in oil over medium heat until softened, about 5 minutes. Add garlic and cook for a minute, then add broth, chicken, beans, potatoes, and flavorings except lemon juice. Bring to a boil then simmer until potatoes are tender and chicken cooked to 165F, up to about 20 minutes. Then place the chicken on a plate and shred it using 2 forks. Stir kale into the soup and cook, stirring often, until wilted, then remove pan from heat and stir in lemon and shredded chicken, then serve.
Healthy Oatmeal with Fruits and Nuts
(Adapted from forksoverknives.com)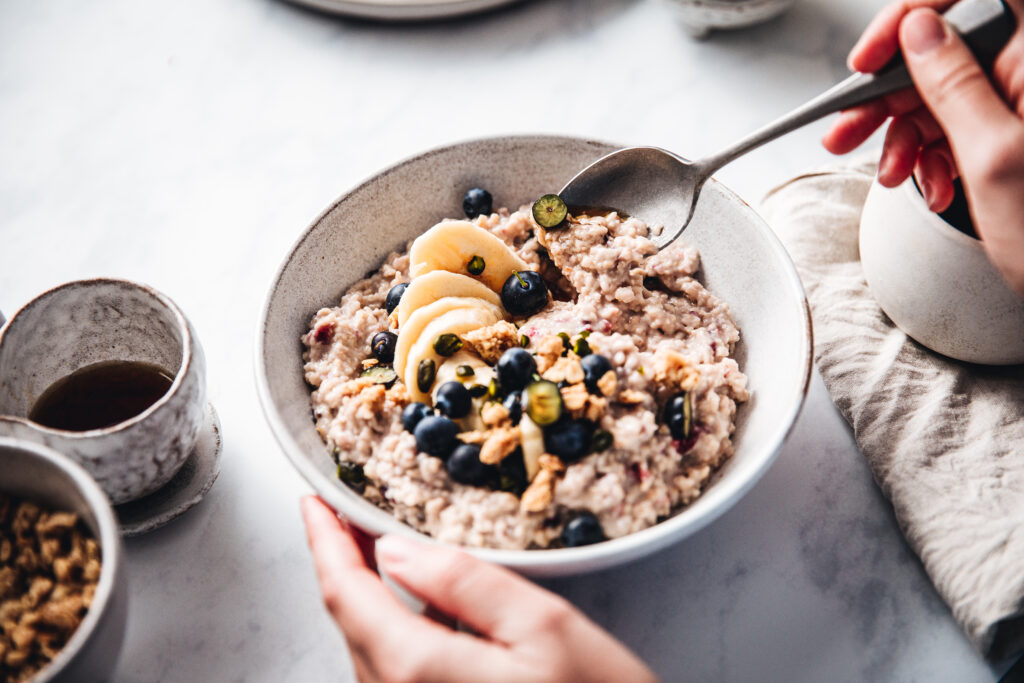 Ingredients:
Rolled oats, 1 cup
Water, 2 cups
Fresh fruits of choice — berries, ripe banana, apricot or others
Dried fruits of choice — raisins, cranberries, apples
Chopped nuts of choice — walnuts, pecans, cashews
Cinnamon, 1/3 teaspoon ground
Salt, pinch
Maple syrup optional, but I highly recommend it
Directions:
Cook oats in water, bringing to a boil in a small saucepan, then continuing to cook for about 5 minutes over medium heat, until water has been absorbed. Stir in cinnamon and salt, then top with fruits and nuts. Serve hot with maple syrup poured on top.
Honey Garlic Salmon
(Adapted from delish.com)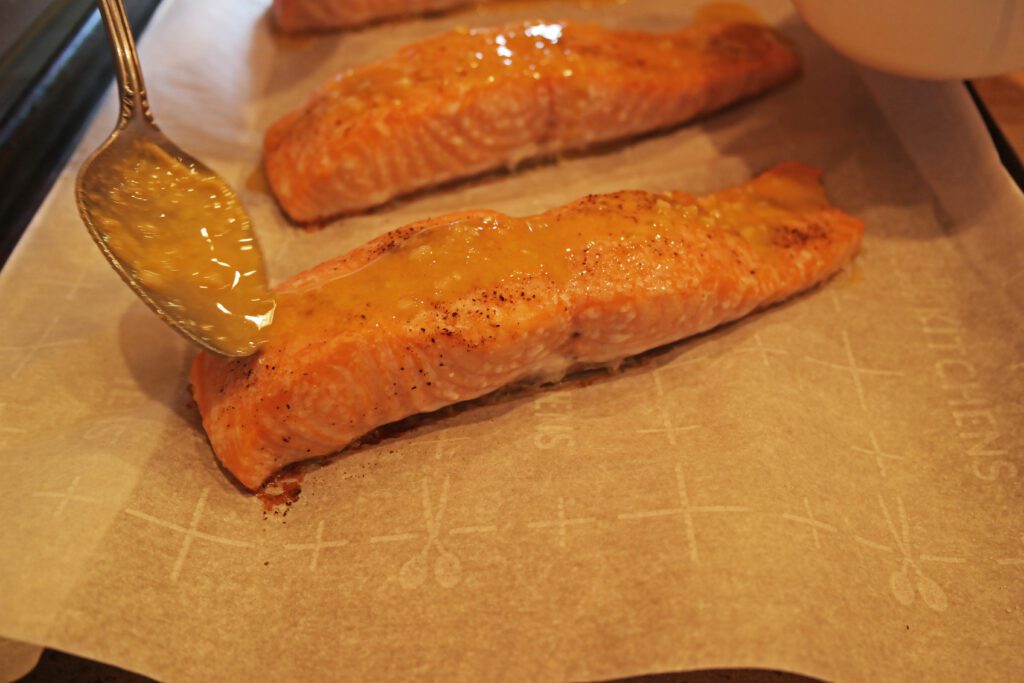 Ingredients:
Salmon, 4 6-oz filets rinsed and patted dry
Honey, 1/2 cup raw
Lemon, 1 sliced into rounds
Lemon juice, 2 tablespoons
Garlic, 2 cloves minced
Soy sauce, 1/4 cup low-sodium
Olive oil of choice, 3 tablespoons
Salt and pepper to taste
Red pepper flakes to taste, if desired and tolerated
Directions:
Place salmon, skin-side up, into a large skillet with 2 tablespoons olive oil, pan preheated to medium-high heat. Sprinkle it with salt and pepper. Cook salmon for about 6 minutes until flesh golden, then flip and add remaining oil and continue cooking with added garlic. Finally add a mixture of honey, soy sauce, lemon juice, and red pepper flakes if desired. Cook at lower temperature until sauce is reduced by about one-third. Baste salmon with the sauce. Serve garnished with a slice of lemon.