Give Your Kids Permission to Veg Out
by CAROL CORLEY
It's always a challenge to get children to eat foods that are good for them, like vegetables.

Of course, it helps to start with foods that youngsters already tend to like — like carrots, peas, broccoli, cauliflower, bell peppers, cucumbers, celery, corn, cherry tomatoes, and even spinach.

When looking for vegetables that will interest children, keep in mind color, shape and variety. Kids also enjoy foods they can eat by hand, maybe with a dip, like hummus, cottage cheese, creamy pesto, or even Nutella or peanut butter. Crunch is also fun. It is possible to slip veggies into a lunch or dinner, like mac and cheese with broccoli, or casseroles, and maybe even vegetable tacos. What child doesn't like pizza? Or how about a zucchini boat?

Vegetables are an important part of the diet, but sometimes children don't like them because the foods have a slightly bitter taste due to the presence of beneficial compounds, such as calcium and flavonoids. BBC Science Focus and other sources note that evolution resulted in a gene that makes us dislike plants that taste bitter due to the possible presence of toxins. Adults learn to be comfortable with what foods are safe, but children need to be introduced. Also, humans lose half of their taste receptors by age 20, so children are more sensitive. To help children get comfortable with the taste of vegetables in my house, we required kids to have two bites of a food they didn't like. Then they had permission to avoid eating the rest of that food. They grew up with a very broad diet because over time, those two bites added up to a greater comfort level.

Don't discount the participation factor. To really get youngsters into vegetables, have them help make the dish.
Kid-Friendly Salad
(Adapted from eatingwell.com)
Ingredients:
Lettuce of choice, 4 large leaves torn into quarters
Carrot, 1 cup shredded
Cucumber, 1/3 cut into slivers
Apple, 1 quartered
Green pepper, 1 cut into slivers
Yellow pepper cut into slivers
Strawberries, 1 cup sliced in quarters
Mayonnaise, 1/4 cup
Cider vinegar, 2/3 tablespoon
Olive oil, 1 tablespoon extra virgin
Poppy seeds, 1 teaspoon
Sugar, 1 teaspoon (can substitute honey 1/2 teaspoon or to taste)
Salt and pepper to taste, if desired
Directions:
Mix mayonnaise, vinegar, oil, poppy seeds, sugar or honey, salt and pepper if used. Divide among four small bowls. Serve attractively on 4 plates with lettuce, topped with vegetables and fruits.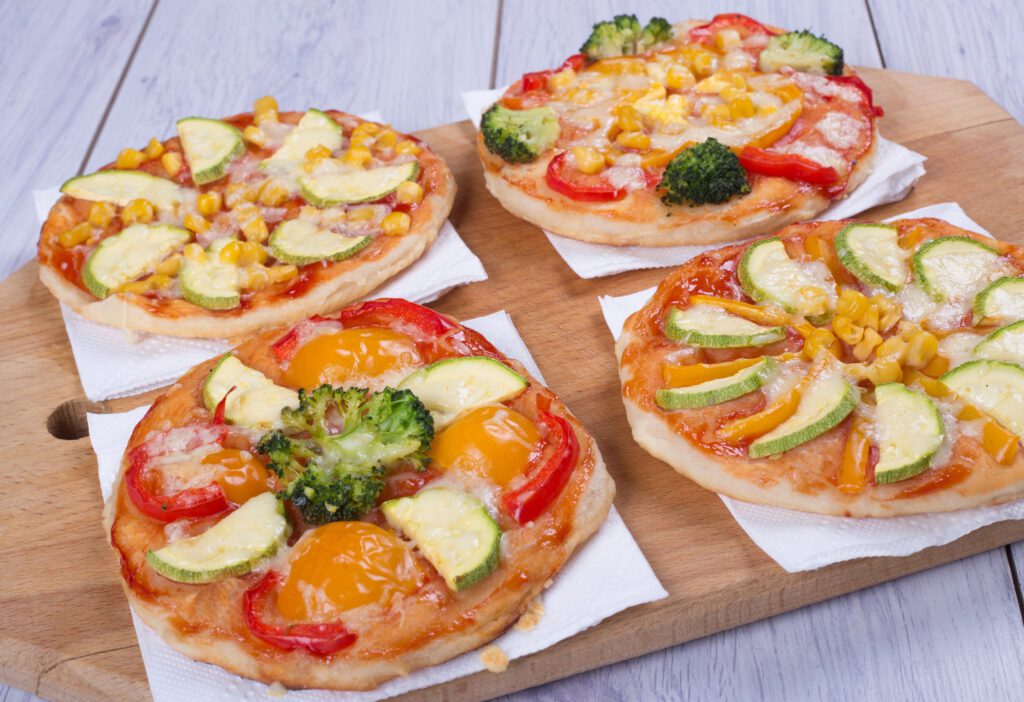 Veggie Pizza Minis
(Adapted from pauladean.com)
Ingredients:
English muffins, 4 sliced in half
Feta or cheese of choice, 1/3 cup crumbled
Mozzarella, 1/2 cup grated
Eggplant, 2 cups diced
Yellow squash, 1 thinly sliced
Zucchini, 1 grated
Grape tomatoes, 3/4 cup halved
Vidalia onion, 1/4 sliced
Basil, 1/4 cup fresh, shredded
Olive oil, 2 tablespoons extra virgin
Balsamic vinegar, 1 tablespoon
Seasoning, 3/4 cup, including dried thyme, parsley, paprika, garlic
Salt and pepper to taste
Directions:
In a saucepan with 1 tablespoon of olive oil, cook tomatoes until softened, then spoon evenly over English muffin halves. In the same skillet, sauté eggplant and onions in 1 tablespoon of olive oil, add squash and zucchini. Cook until barely tender, then spoon over tomatoes evenly. Sprinkle each little pizza with balsamic vinegar and top with cheeses and seasoning, with shredded basil last. Bake for 25 minutes in an oven preheated to 400F. Cheese should be melted and the crust lightly browned.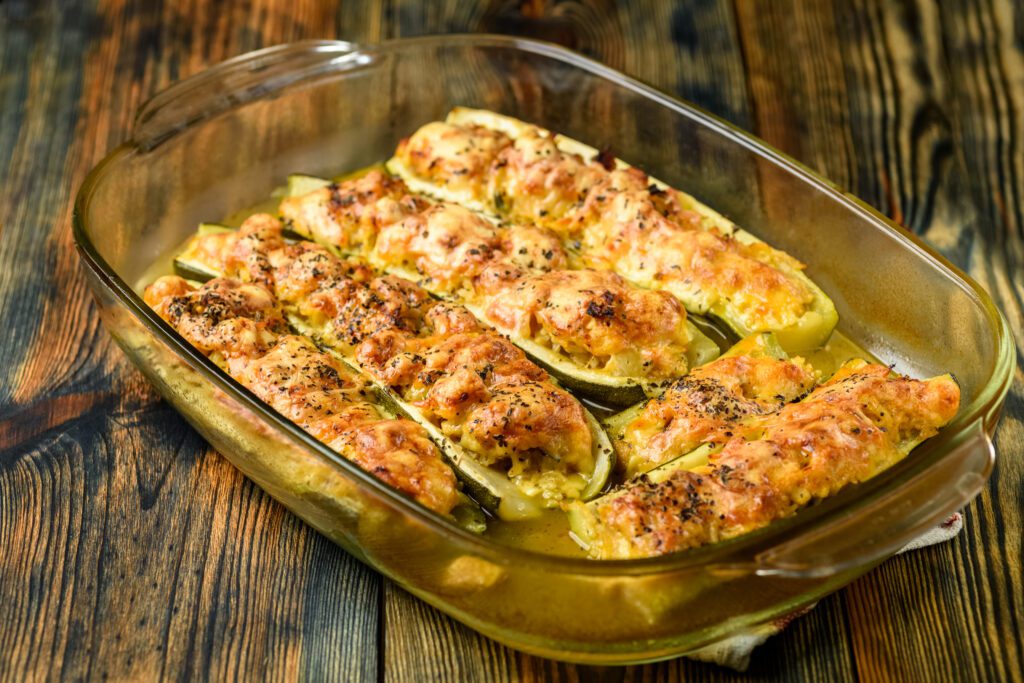 Stuffed Zucchini Boats
(Adapted from dinneratthezoo.com)
Ingredients:
Zucchini, 4 medium
Beef, 1 pound lean ground, or mild Italian sausage
Marinara sauce, 2 cups
Italian seasoning, 1/2 teaspoon dried
Olive oil, 2 teaspoons extra virgin
Onion, 1/1 cup finely diced
Carrot, 1/4 cup shredded
Garlic, 2/3 teaspoon minced
Mozzarella cheese, 3/4 cup shredded
Parsley, 1 tablespoon chopped
Salt and pepper to taste
Cooking spray
Directions:
Prepare zucchini by cutting in half lengthwise, taking off stem ends, and carefully scooping out the flesh. Sprinkle Italian seasoning, salt and pepper over the zucchini shells and arrange on a baking dish prepared with cooking spray. Cook beef (or sausage) in olive oil in a fry pan for 4-5 minutes, add carrots and onion and cook for 4 minutes longer, add garlic and cook for 30 seconds longer. Pour in marinara sauce, bring to a simmer and cook for 5 minutes. Spoon mixture evenly into zucchini shells, then top with shredded cheese and bake for 25 minutes in an oven preheated to 400F. When done, sprinkle with parsley and serve.