Easy Leafy Greens Fit for Stifling Summers
by CAROL CORLEY
In the heat of a Central Florida summer, sometimes the thought of cooking or eating a hot meal is not appealing. Fortunately, there are lots of options for a cool, refreshing dinner. All it takes is a protein, some healthy fruits and vegetables, and a light dressing. You can even perk it up with some nuts, whole grains, and herbs.
If a salad is to be your main course, protein is a very important part of the entree. Protein can include any meat — such as chicken, beef, or pork — or even seafood like salmon, shrimp, or tuna. It can be cooked in advance and served on the salad chilled.
Vegetarians have choices, too. Tofu, eggs, and legumes such as chickpeas and lentils provide proteins and offer a boost in fiber, dietitians say.
Once you have decided on a protein, it's time to pick the salad base — leafy greens such as romaine and butter lettuce are excellent options. Vegetables are also important. Good choices would include cucumbers, bell peppers, tomatoes, carrots, avocado, beets, and beans, among others. Fruit can be apples, oranges, grapefruit, and dark berries, all of which add important vitamins and minerals.
We will start with a classic chef salad, but with a bit of a kick.
Classic Chef Salad Plus Shrimp
(Adapted from delish.com)
Ingredients:
Romaine, 6 cups chopped
Ham, turkey, roast beef, 4 oz each, cooked and diced
Shrimp, 6 large, grilled, shelled, deveined and tail removed (can be chilled or not per choice)
Swiss, cheddar and Gouda cheeses, 3 oz each
Cherry tomatoes, 1 cup halved
Cucumber, 1 sliced
Basil, few leaves torn
Salt and pepper to taste
Croutons of choice
Dressing of choice, vinaigrette, blue cheese, or ranch
Garnish with small twigs of herbs or twirls of carrots, or of choice
Directions:
Shrimp should be skewered, grilled on high for 2 minutes per side, then removed and set aside once pink and lightly charred.
Meanwhile, fluff chopped lettuce pieces on an attractive platter and arrange remaining ingredients attractively on top. Surround with your garnish of choice. Top with a drizzle of dressing, or serve alongside salad.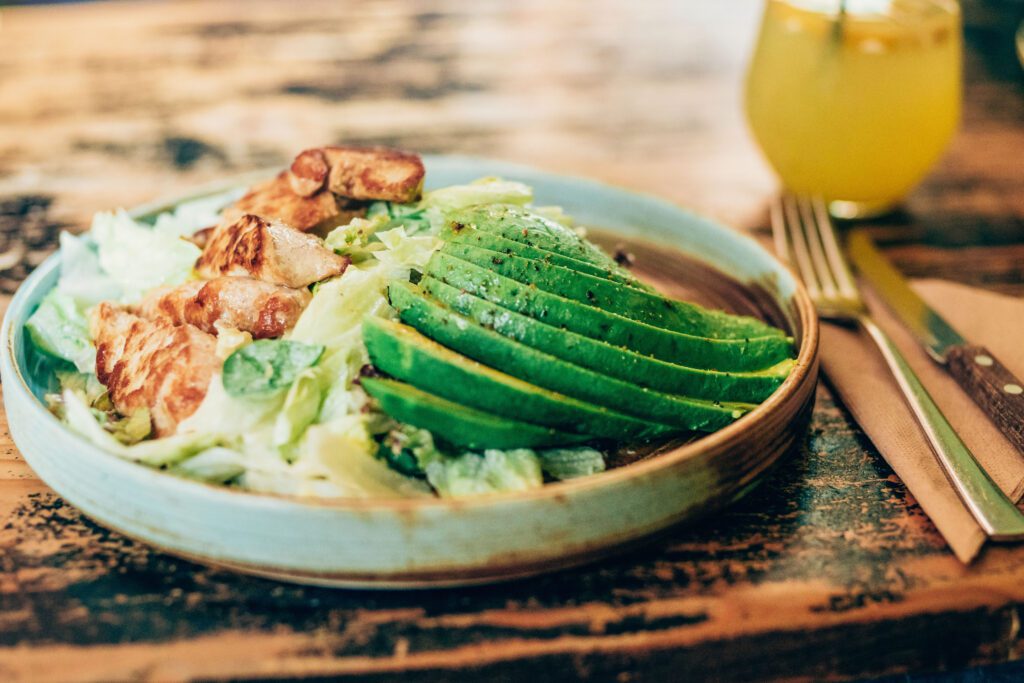 Peppery Greens Salad with Avocado and Chicken
(Adapted from foodandwine.com)
Ingredients:
Chicken, 2 cups cooked, shredded
Avocado, 1 large, ripe, sliced
Radicchio, 1-1/2 cups chopped, white and light parts only
Pepitas, 1/4 cup roasted, salted
Arugula, 4 cups packed
Frisée, 3 cups torn, white and light parts only
Tortillas, flour or corn per choice
Olive oil of choice, 3 tablespoons plus 2 teaspoons divided
Salt and pepper per taste
Smoked Spanish paprika, 1/4 teaspoon
Champagne vinegar, 3 tablespoons
1-1/2 tablespoon raw honey
Lime juice, 2 teaspoons fresh
Lime wedges for serving
Directions:
Cook tortillas of choice in the oven preheated to 350 F, tortillas evenly brushed with 2 teaspoons of oil and sprinkled with salt and paprika. Bake until browned and crisp, about 8-10 minutes. Then remove from the oven, cool completely, and break into 1-1/2-inch pieces.
Meanwhile, whisk together vinegar, honey, lime juice, salt and pepper per taste, and remaining 3 tablespoons oil. Toss into the mix the arugula, frisée, chicken, radicchio, avocado, pepitas, and tortilla pieces. Add salt and pepper per taste and arrange on a serving platter, decorated with lime wedges.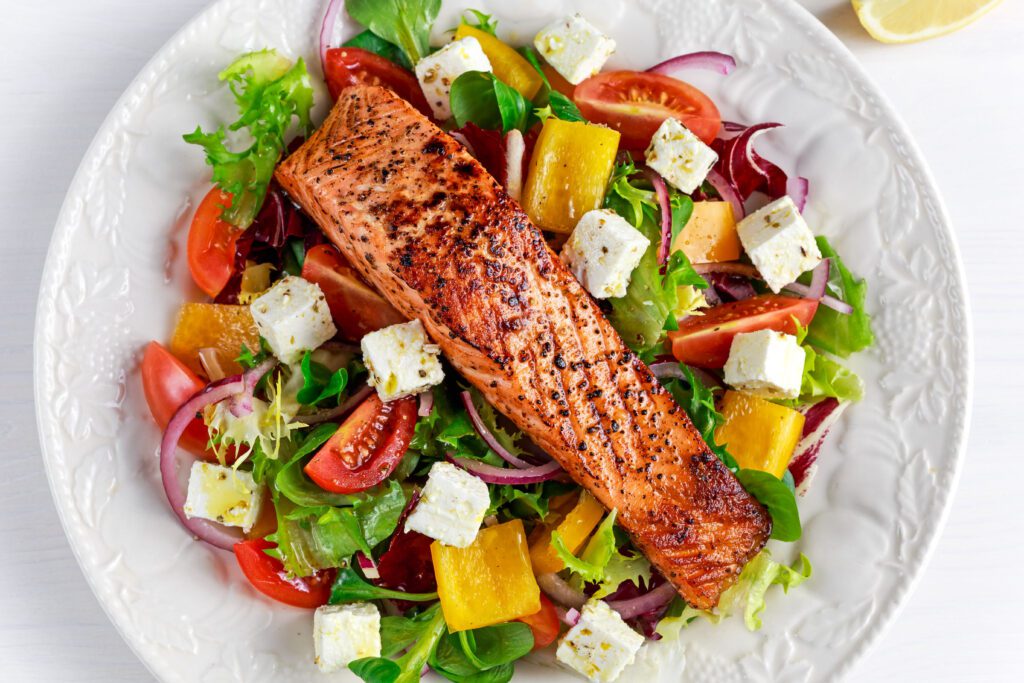 Salmon Salad Niçoise
(Adapted from allrecipes.com)
Ingredients:
Salad:
Salmon, 5 oz cooked, flaked
Egg, 1 hard boiled
Red potatoes, 1/2 pound small, cubed and boiled, then cooled slightly
Green beans, 5 oz, cooked then plunged in an ice bath to stop cooking
Bell pepper, green or red, 1/2 pepper in thin strips
Kalamata olives, 8 pitted and halved lengthwise
Cherry tomatoes, 1 cup halved lengthwise
Butter lettuce, 7 leaves
Olive oil of choice, 1 tablespoon
salt to taste
Vinaigrette:
Sherry vinegar, 1 tablespoon
Olive oil of choice, 3 tablespoons
Dijon mustard, 1/2 teaspoon
Lemon juice, 1 tablespoon fresh squeezed
Garlic, 1/1 clove minced
Salt and pepper to taste
Directions:
Mix together vinaigrette ingredients except add olive oil slowly at the end until well combined.
Drain cooled potatoes and green beans, add bell pepper, mix together and add vinaigrette. Toss until well combined. Line serving plate with butter lettuce leaves, place potatoes, green beans, and pepper strips on top. Distribute olive halves around the salad, then toss cherry tomatoes with olive oil and salt and arrange around the plate. Place salmon on top, slice egg in half and place half on each side of the plate.