As Thanksgiving quickly approaches and swiftly thereafter we will be swung into the hectic pace of the holiday season, now is the best time to count our blessings. At this time of year, we should try to show our gratitude to our loved ones and friends who support us through thick and thin. For those of us whose loved one has passed away, the holiday season is a time to honor and bless their memory by remembering all the good times shared together. Certainly, you could do these things at any time of the year, but it is often the holiday season when we are gathering with family that we are reminded of how precious these times can be, and how quickly times can change.
In this edition of Central Florida Health News magazine, we address several topics of urgency, including safety reminders for pedestrians, when to call 9-1-1, and a local event that offers CPR education. These topics might be farthest from your mind as we approach the holidays. However, we offer them as dutiful reminders to stay safe— and healthy— this holiday season.
Also in this edition, we feature medical staff members from local ER departments. These unique stories each help to provide us with perspective and give us a fresh point of view on a topic that is rarely given the spotlight, but certainly holds vital importance to our community.
Last, but certainly not least, Dr. Ulyee Choe, the director of the Department of Health in Polk County and a PCMA member, discusses a local coalition that helps our community be prepared for disasters and healthcare emergencies.
On a side note— and ending on a note of thanks— we recently held our Fourth Annual Casino Night fundraiser in the luxurious showroom at Fields Motorcars Mercedes Benz in Lakeland, and it was a tremendous success!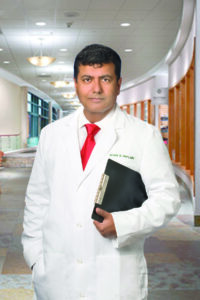 Proceeds from this annual event went straight to We Care of Polk County and the Polk County Medical Foundation.  We'd like to extend our deepest gratitude to the many sponsors and donations received to make such a festive gala possible. With the generous support received from sponsors and attendees, we can continue to provide local families in need with the specialty medical care that they otherwise could not obtain.
All of the physicians of the Polk County Medical Association would like to wish you a safe and joyous Thanksgiving!
Sincerely,
Arvind B. Soni, M.D.
Director of Radiation Oncology
St. Joseph's Hospital, BayCare Health System
President, Polk County Medical Association