by CAROL CORLEY
As spring moves toward summer, and the temperatures remain in the mid- to high 90s, we tend to look for ways to stay cool. Drinking a lot of water is always important. But what about treats? Frozen sweet treats sound like a wonderful way to cool off, except for all that sugar and fat. Is there a way to make sweet frozen treats that are actually healthy?
If you control the ingredients, maybe there can be. For example, ice cream can be wonderful, but it also might be loaded with saturated fat and sugar, especially if found in the grocery store freezer. Those Iced treats can be high in calories and sugar even if marketed as "healthy" or "light."
So what's can you do? Start with fresh fruit and maybe yogurt.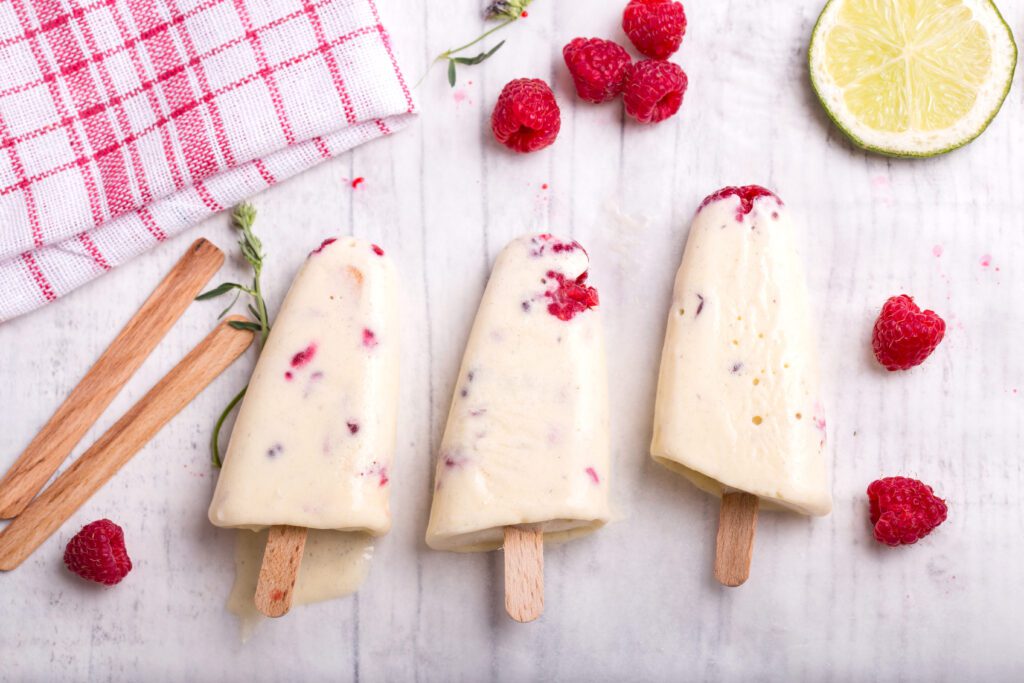 Raspberry-Lemon Greek Frozen Yogurt Bark
(Adapted from eatingwell.com)
Ingredients:
Raspberries, 6 oz halved lengthwise
Greek yogurt, 3 cups plain, whole milk or 2%
Honey, 1/3 cup, local raw honey preferred
Lemon zest from 1 lemon
Lemon juice, 2 tablespoons
Vanilla extract, 1 teaspoon pure
Directions:
Stir together yogurt, honey, lemon juice and vanilla and spread on large rimmed baking sheet lined with parchment paper, going for a 10" x 15" rectangle. Scatter raspberries on top and finish with a sprinkling of lemon zest over all.
Freeze at least 3-4 hours or until very firm. Break into 32 pieces then serve. If making ahead, bark can be frozen for up to a month between airtight sheets of parchment paper. 
Coconut, Cherry and Vanilla Bean Ice Pops
(Adapted from foodnetwork.com)
Ingredients:
Cherries, 2 cups sweet, pitted and halved
Coconut milk, 2 cans full-fat
Maple syrup, 2 tablespoons pure
Vanilla bean, 1 with seeds scraped and pod reserved
Vanilla extract, 1 tablespoon pure
Almond extract, 4-5 drops
Honey, 3 tablespoons raw, local
Cinnamon, pinch
Popsicle mold
Directions:
Simmer coconut milk and vanilla bean seeds and pod stirring occasionally over high heat. After reaching simmer, reduce heat to low and allow to simmer for 5 minutes covered. Remove from heat and allow to cool for 5 minutes, then whisk in honey and vanilla extract. Pour mixture into measuring jug and set aside.
Meanwhile, simmer the cherries, maple syrup, cinnamon and almond extract over high heat, then cover and reduce heat to low, simmering until cherries are juicy and soft, about 10-15 minutes. Remove from heat and set aside.
Once cooled a bit, strain cherry mixture over a blender jar, pressing out the juice. Add about 1/3 of the cherry pulp and 1/3 of the coconut milk mixture to the blender jar and blend until smooth, and you should have about 2 cups of liquid. Refrigerate.
Divide the remaining coconut milk mixture among ice pop molds and freeze about 1 hour or until nearly frozen. Remove from freezer and divide the remaining cherry pulp among the molds. Top with the remaining cherry-coconut mixture, place lid on molds and add sticks. Freeze at least 8 hours or until solid. To remove pops from molds, dip briefly in warm water and carefully pull out.
Banana Ice Cream with Peanut Butter, Chocolate, or Berries
(Adapted from Better Homes & Gardens)
Ingredients:
Bananas, 4 medium, peeled, sliced and frozen
Peanut butter, 1/4 cup
Coconut milk, 2 tablespoons of unsweetened, chilled
Vanilla, 2 teaspoons of pure
Directions:
Place all ingredients in a food processor and process until smooth. Freeze at least 4 hours and up to 1 week.
Instead of peanut butter, you could add 2 tablespoons of unsweetened cocoa powder. Or you could instead choose to add 1/2 half cup each strawberries and raspberries.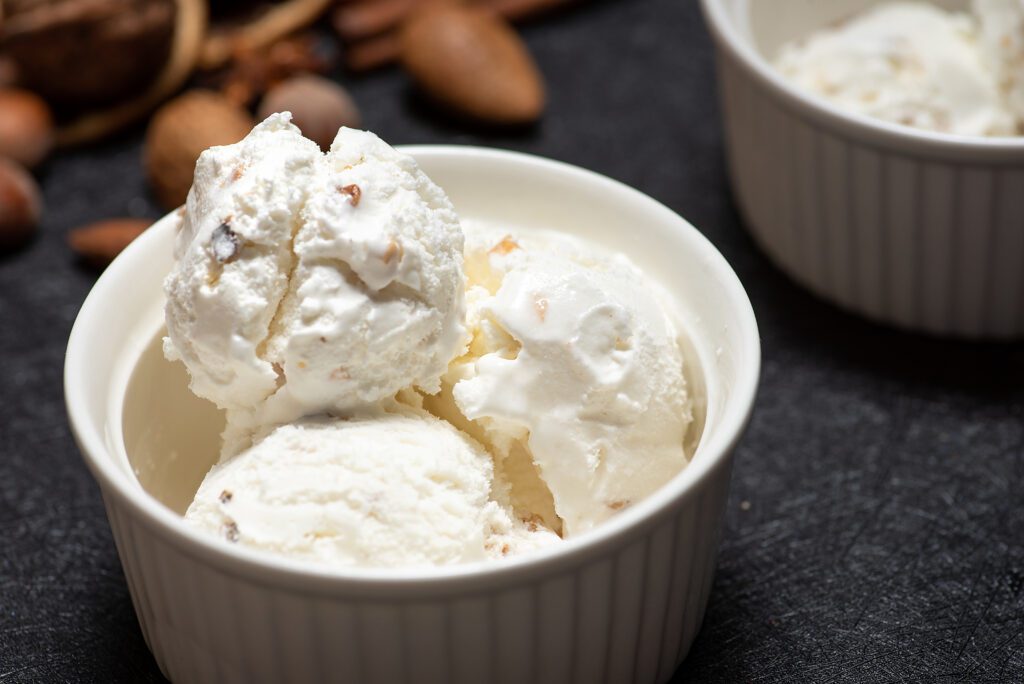 Protein Ice Cream
(Adapted from thebigmansworld.com)
Ingredients:
Coconut milk, 28 oz chilled
Vanilla protein powder, 1 cup or more per choice
Medjool dates, 2/3 cup per choice (can use 1-2 tablespoons of sugar as alternative or other sweetener if desired, even maple syrup)
Vanilla extract, 1 teaspoon pure
Directions:
Process coconut milk, protein powder and dates (or sweetener of choice) and blend until thick and creamy. Transfer into pre-frozen loaf pan and place in freezer. Every 20 minutes or so, lightly mix cream mixture for first hour or so. Cover tightly while in freezer to avoid cream mixture from becoming too icy. To serve, let thaw for about 10 minutes to soften and use an ice cream scoop that has been dampened.