UCF Teams With AdventHealth, Orlando Health to Tackle Nursing Shortage
by PAUL CATALA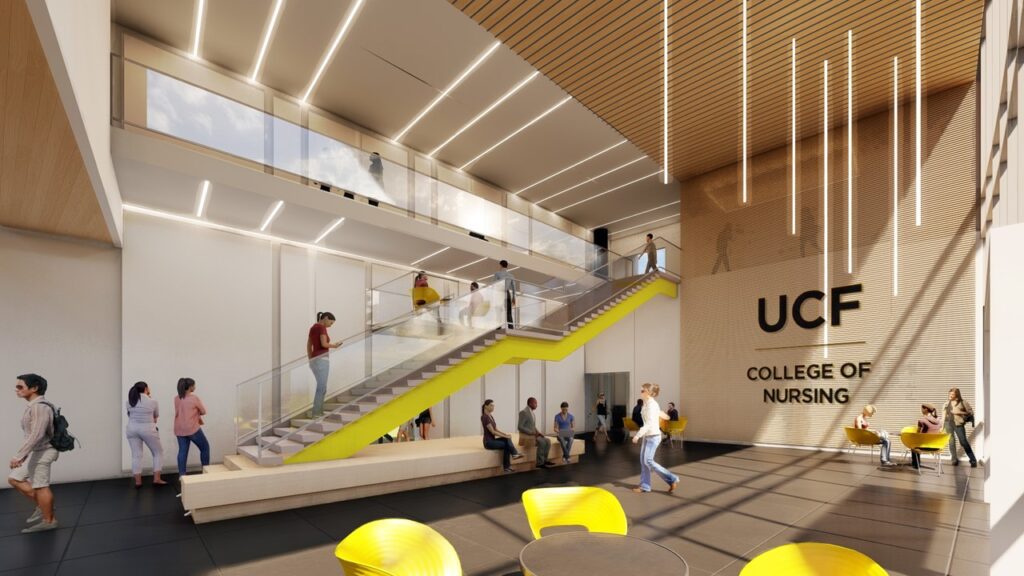 As more than 1,000 people each day make the Sunshine State their new homes, the need for healthcare professionals to take care of them intensifies. In April, the Florida Hospital Association said Florida will need more than 60,000 nurses in hospitals, clinics, and doctors' offices by 2035 to meet the state's projected healthcare needs.
With that crisis looming, AdventHealth and Orlando Health have partnered to pledge $5 million each for a new University of Central Florida College of Nursing building in Lake Nona.
The new building will allow UCF to graduate hundreds of additional nurses each year. According to UCF, once completed, the new building will be used to educate faculty members who will teach nursing students in the future.
As what UCF calls "Pegasus Partners," AdventHealth and Orlando Health will provide tuition assistance and additional paid internships for UCF nursing students.
"AdventHealth and Orlando Health have been valued, transformative partners to UCF as we collaborate to support the health and well-being of our community," says UCF President Alexander Cartwright. "Their continued partnership and generous investment in UCF's College of Nursing will make a difference in our region for generations to come."
Besides contributing to the new building, the two hospitals' gifts will be used to create a scholars program to provide tuition assistance to 10 senior Bachelor of Science in Nursing (BSN) students each year and provide paid summer internship programs for an additional 10 to 15 students each year.
Randy Haffner, CEO of AdventHealth Florida, says one of his organization's top priorities is to make sure there are enough workforce members — especially nurses — to meet today's and tomorrow's healthcare demands. To help accomplish that, Haffner says AdventHealth Florida will hire more than 8,200 nurses across the state in 2023.
"That's why we are investing in the workforce of the future in many different ways," he says. "We also have partnerships or provide financial support to many of our local public and private schools — from UCF to Keiser to Polk State College — to train our current and future nurses. In fact, AdventHealth recently gave $1.7 million to Polk State College's nursing program to help train the workforce of the future."
At Orlando Health, Karen Frenier, senior vice president of human resources and chief nurse executive, says Orlando Health and UCF have been in a partnership "for many years." She says over the summer, Orlando Health held its first externship program with UCF students working in the hospital to do clinicals with dedicated education units, specific hospital units and staff to work on clinical needs. There have also been discussions with UCF educators to use them in adjunct capacities.
"This has been being formatted for a pretty long time on how Central Florida addresses the needs that we have for the workforce who are taking care of patients in Central Florida," says Frenier. "It became evident over the last couple of years that the interest in nursing school is very high but the capacity to accept those students needed to be expanded. That has been a big piece of this effort."
In addition, Frenier says Orlando Health hired Patty Genday as assistant vice president of academic partnerships at Orlando Health, a new role to expand the nonprofit health organization.
Currently, AdventHealth and Orlando Health employ more than 12,000 nurses combined at a total of 34 hospitals across Central Florida. Both medical organizations are hoping the UCF partnership will help add skilled nurses to alleviate the national nursing shortage.
"Ensuring we have well-educated, highly trained and skilled nurses to meet Florida's growing healthcare needs is a pressing challenge for the entire healthcare sector," says Haffner.
"Partnering with leading educational institutions such as UCF is absolutely vital to ensuring these efforts are successful."
According to UCF, the university graduates more newly licensed registered nurses each year annually than any other school in the State University System of Florida, with approximately 260 UCF graduate nurses entering the field each year. An estimated 85 percent of the 16,000 UCF nursing alumni live and work in Florida.
According to information provided by Chad Binette, UCF assistant vice president for communications, the College of Nursing added 100 students more than the usual enrollment to help keep pace with the state's rising demand for new nurses. He says the new building is needed for that enrollment growth and once the 90,000-square-foot building is open, it will allow the college to increase enrollment by at least 50 percent.
"Our longstanding partnerships with AdventHealth and Orlando Health have a wide-reaching impact on the community, from supporting a quality education of our students who join the workforce and provide compassionate, skilled care to funding faculty research and innovation to improve outcomes," says Mary Lou Sole, dean of the UCF College of Nursing. UCF will continue to look for philanthropic investments in the new building while working to raise the $70 million needed to break ground on the College of Nursing. So far, $26.2 million has been raised through philanthropy, combined with $43.7 million committed by the State of Florida.