AS PHYSICIANS, we understand that healthy lifestyle choices are key to a long and fruitful life. It's important to look at all aspects of your daily health routine, including how you care for your teeth. That is why, in this edition of Central Florida Health News, we focus on several oral health-related topics.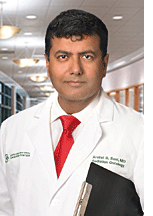 Research tells us that poor oral health, such as gum disease, often goes hand-in-hand with heart disease. Other chronic illnesses, such as diabetes, can be further complicated with periodontal disease, which is why it's important to understand how you can prevent or treat this common dental issue.
In addition, you can read about how dentists are working with parents and the community to help children develop good oral care habits. It's essential to teach kids from infancy how to take care of their teeth. Otherwise, tooth decay (and all the problems that come along with it) is sure to present itself.
Another relevant topic I recommend for you is this month's column by Dr. Ulyee Choe, a Polk County Medical Association member and the director of the Florida Department of Health in Polk County. In his article for this edition, he discusses what you need to know about the measles, especially in light of the recent outbreaks around the country.
On a side note, I'd like you to save the date for a special event coming up April 11. The Polk County Medical Foundation is partnering with Citizen CPR to bring you an educational and informative hands-on seminar that is free and open to the public. The event will be held at the Good Shepherd Hospice facility at 3450 Lakeland Hills Blvd. in Lakeland, beginning at 9 a.m. For more information or to register, please call (863) 644-4051.
As always, the physicians of the Polk County Medical Association are here to help you live a safe and healthy life, so we hope you enjoy this edition of Central Florida Health News magazine.
Sincerely,
Arvind B. Soni, M.D.
Director of Radiation Oncology
St. Joseph's Hospital, BayCare Health System
President, Polk County Medical Association