THE MEDICAL COMMUNITY in the region is growing, with new physicians and services for residents. The Florida Department of Health in Polk County continues to measure health outcomes and released its sixth County Health Rankings & Roadmaps study. The study helps county officials identify areas of strength and weakness, and recognize necessary action needed to improve healthcare issues. This edition's On the Pulse highlights new programs and specialties, outstanding workplace awards, volunteer recognition, and upcoming community events.
FLORIDA DEPARTMENT OF HEALTH IN POLK COUNTY
In March, the Florida Department of Health in Polk County recognized the value in measuring health outcomes by acknowledging the sixth annual County Health Rankings & Roadmaps tool. This study highlights community factors that influence health and uses established data in the rankings. Dr. Ulyee Choe, director of the Florida Department of Health in Polk County and a Polk County Medical Association member, says the ranking illustrates what programs are working, and what still needs to be improved upon to make Polk County a healthier place to live.
These rankings are a snapshot of counties around the country and emphasize that health is a group effort work-in-progress involving local governments, nonprofits, healthcare facilities, businesses, schools, and others to improve the health of community residents. The rankings consider physical environments, social and economic factors, health behaviors, and clinical care to help track and measure progress.
Joy Johnson, director of the Polk County Indigent Health Care Plan, added that the County Health Rankings help them recognize necessary action needed to improve healthcare issues, including access to dental services. They show where Polk County's strengths and weaknesses lie, and are constructive in developing initiatives to strengthen the health of the community.
GESSLER CLINIC
Rakesh Choubey, MD, a board-certified specialist in interventional cardiology, will be joining the Winter Haven-based Gessler Clinic in August 2015. Vriti Advani, MD, a board-certified general surgeon, will be joining the Winter Haven-based Gessler Clinic this August as well. Dr. Advani also performs ERCPs.
LAKELAND REGIONAL HEALTH
Lakeland Regional Health was recently ranked number 28 in Forbes' list of America's Best Employers. The report in the April 13 issue surveyed 1,100 companies and identified factors influencing employee satisfaction. The results were obtained through anonymous online panels. The top five healthcare providers on the list are University of Iowa Hospitals & Clinics (12), Northside Hospital (23), Intermountain Healthcare (25), University of Michigan Health System (26), and Lakeland Regional Health (28).
For the second year in a row, Lakeland Regional Health was also one of only 40 organizations in the world to receive the Gallup Great Workplace Award. This award recognizes the ability to create an engaged workplace culture that drives business outcomes. Other recipients include CarMax, Nationwide Insurance, Charles Schwab, Hyatt Hotels Corporation, and Wells Fargo.
Lakeland Regional Health has completed a $14.6 million surgical suite expansion on the Medical Center campus. Included are two additional state-of-the-art hybrid operating rooms and two large surgical suites that can accommodate robotic surgery and post anesthesia care.
LAKE WALES MEDICAL CENTER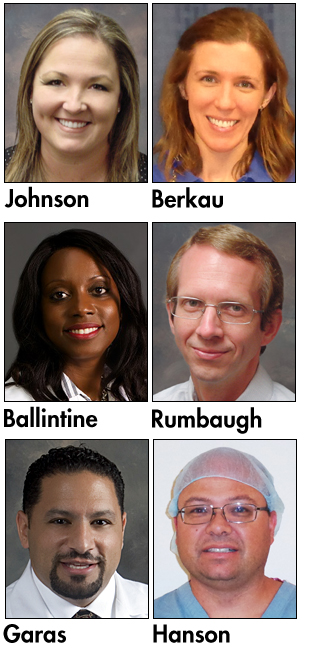 Julia Berkau, Physical Therapist, was selected as Lake Wales Medical Center's Employee of the Month for March. An LWMC employee since July 2008, Julia is known to be loved by her staff, doctors, and patients because of her competency, eagerness to learn, and all around pleasantness. They also consider Berkau to be dependable and conscientious about her work.
Bryan Hanson, Surgical Services nurse and RN, was selected as Lake Wales Medical Center's Employee of the Month for February. Hanson was chosen after a patient wrote a letter detailing his outstanding care to the patient and his wife, especially his calming pre-surgery reassurance, post-procedure instructions, and his act of kindness involving finding the patient a telephone before surgery.
A physician with privileges at LWMC has added a new member to his office medical team. Mitzie Elizabeth Ballintine, a licensed Advanced Registered Nurse Practitioner, has joined Dr. James Nelson at Lake Wales Family Practice. Dr. Nelson says he conducted a thorough search to find the person he felt would provide the best care for patients in the community. With Ballintine joining the team, the office is now able to accept new patients.
WATSON CLINIC
Dr. Jeffrey Rumbaugh joined the Lakeland-based Watson Clinic. A neurologist, Dr. Rumbaugh received his medical degree from the University of Rochester in Rochester, NY, where he also earned his PhD in biochemistry. He conducted his internship at John Hopkins Bayview Medical Center in Baltimore, MD, where he performed his neurology residency and served as Chief Resident. Dr. Rumbaugh's practice is located on 3-West at the Main Clinic, 1600 Lakeland Hills Boulevard in Lakeland.
Board-certified OB-GYN Tarek G. Garas, MD, earned a subspecialty certification in Female Pelvic Medicine and Reconstructive Surgery. This achievement reinforces Dr. Garas' qualifications and training to diagnose and treat a variety of female pelvic health-related concerns. Wendi Johnson, ARNP-C, joined the team to assist with the non-surgical offerings available in Dr. Garas' office.
Richard Devore, manager of the Lean Continuous Improvement department, has achieved recognition as a certified professional in healthcare quality (CPHQ) by the National Association for Healthcare Quality. Kimberly Downs, an analyst in Watson Clinic's Continuous Improvement Department, recently earned a Six Sigma Black Belt certification by the American Society for Quality (ASQ).
Watson Clinic's Program for Employee Excellence and Recognition (PEER) Award is given on a monthly basis to an individual team member who best reflects the patient-focused service standard that Watson Clinic strives to exemplify. The most recent winners of the Clinic's PEER Award include Laura Wright and Roger Hause. Both PEER winners were given a plaque, dinner at a local restaurant, a reserved parking spot for a month, and a free service from Watson Clinic's Bella Vista Spa.
In recognition of National Melanoma/Skin Cancer Detection and Prevention Month in May, the Watson Clinic Foundation hosted a free skin cancer screening event open to area residents who had not yet been established with their own dermatologist. This event took place on Monday, May 4, on the second floor of Watson Clinic's Bella Vista Building at 1755 N. Florida Avenue in Lakeland. Watson Clinic's team of highly qualified dermatologists donated their time to perform a free skin evaluation on each attendee.
In other news, Watson Clinic's diabetes education program recently renewed their Education Recognition Certificate from the American Diabetes Association (ADA). This is the 16th year the clinic has received the certificate, which recognizes adherence to strict ADA standards, a staff of knowledgeable health professionals, and quality resources and management services for diabetic patients. Their diabetes education program provides skills and support so patients can live their lives to the fullest. Group and individual education is available at certain Watson Clinic locations.
WINTER HAVEN HOSPITAL
Winter Haven Hospital recently honored more than 50 volunteers at the Annual Volunteer Appreciation Luncheon held at Lake Ashton Golf and Country Club during National Volunteer Week. Members of the Winter Haven Hospital Volunteer Auxiliary presented a check for $65,000 to the Winter Haven Hospital president and Winter Haven Hospital Foundation president and CEO. This contribution completes the Auxiliary's $1 million project pledge for the Volunteer Auxiliary Grande Lobby Construction/Renovation. The Auxiliary annually sponsors three Youth Scholarship Awards in the amount of $2,000 each to recognize outstanding youths in the community. Youth Scholarship Awards were presented to Lauren Mayo, Angelis Contreras, and Witney Fleurant.
CREDIT
report by JO LYNN DEAL