Haven's Dr. Henne Receives Polk Emerging Leaders Award
by TERESA SCHIFFER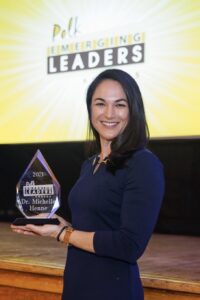 In the four years that Dr. Michelle Henne has been practicing sports medicine at the Relevè Sports Medicine clinic in Winter Haven, she has made a noticeably positive impact on the community, and not just within Polk County. Her efforts have recently been recognized by Polk County's young professional leadership organizations, as she has been awarded one of five 2021 Polk Emerging Leaders Awards. 
This prestigious accolade is given to five local professionals each year who showcase a spirit of commitment to and positive influence on the Polk County community. Three groups collaborate on the process of accepting nominations and choosing the winners: EMERGE Lakeland, Endeavor Winter Haven, and ENGAGE: Bartow Chamber Young Professionals. This is the 10th year for the presentation of this coveted honor.
Education is a priority for Henne, and in 2018 she established a platform to provide continuing education for athletic trainers in the area. While the program was initially created for Polk County instructors, Henne was able to expand her educational program nationwide when the pandemic facilitated the use of virtual platforms
"It was really quite nice because then we were able to have both national and international speakers speak with both our local athletic trainers and then also national athletic trainers," she says of the unexpectedly rapid expansion of her program.
The program is called Journal Club, and it is now the largest private practice provider of free Board of Certification-approved live continuing education for athletic trainers in the country. Typically, each session has about 70 to 100 viewers, though they have had as many as 500 people attend one webinar. 
Henne's devotion to helping others improve physically, through her practice, while encouraging the growth and development of those who are similarly committed to community involvement and wellness has not escaped the attention of other local leaders. 
Katie Worthington Decker, President/CEO of the Greater Winter Haven Chamber of Commerce, says "Where [Henne] went above and beyond is in her level of engagement. Not only has she opened a successful independent sports medicine practice, she has also mentored hundreds of others in her industry, and through COVID nonetheless. She has also mentored other women and businesses in the community through Junior League and Leadership Winter Haven." 
Though her educational program has gone nationwide, Henne keeps it local when it comes to community care. She stays involved with numerous organizations in Central Florida dedicated to helping residents receive the health care they need regardless of their financial situation, such as WeCare of Central Florida and Polk Health Care Plan.
"One of my big pillars of what I want in my company, in my medical practice, is making sure that we have accessibility for everyone who needs it," she explains.
Since moving her practice from Orlando to Winter Haven and having the opportunity to learn about our community from the inside, Henne has been greatly inspired by the leadership here. When she was first nominated for a Polk Emerging Leaders Award three years ago, she was humbled by the company she found herself in. 
"I was so impressed and so overwhelmed by how many leaders there were in our community that are doing such amazing things."