There are two things that— when found lacking or without— can put tremendous strain on the health of a family. Those two things— food insecurity and health insurance— are topics that we address in this edition of Central Florida Health News magazine.
There are, however, some people, organizations, and physicians who work tirelessly to be a part of the solution. Some of those organizations, which you will learn more about in the pages of this edition, are the Agape Food Bank, We Care of Polk County, Lakeland Volunteers in Medicine, Polk Vision and its Building a Healthier Polk initiative, and many others. Another organization advocating for better medical care in our community, which also happens to work closely with the Polk County Medical Association, is the Central Florida Physicians Alliance (CFPA). You'll also be able to read more about how the CFPA works for patients to help ensure the best patient care possible is provided.
Last, but certainly not least, we'd like to extend you an invitation to our Fourth Annual Casino Night fundraiser coming up Saturday, October 25, from 6:30 to 10:30 p.m. The event is hosted by Fields Motorcars Mercedes Benz, 4141 North Florida Avenue in Lakeland.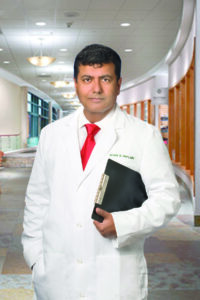 It will be a night filled with casino table games (mock money, don't worry!), a silent auction, music, food, drinks, and more!  Proceeds from this event will go straight to We Care of Polk County and the Polk County Medical Foundation. Only with your help can we provide local families in need the specialty medical care that they otherwise could not obtain. Come out for an evening full of fun at an event whose impact will last even after the night is over. For more ticket or sponsor information, please contact Jackie Courtney in our office at (863) 644-4051 or email director@polkcountydoctors.com.
Sincerely,
Arvind B. Soni, M.D.
Director of Radiation Oncology
St. Joseph's Hospital, BayCare Health System
President, Polk County Medical Association