Inside this special edition of Central Florida Health News, we take a look at our area's careers in health.  Inside these pages, you'll get a glimpse of the demand for professionals in the health sciences industry in our local community; find out what it takes to be a registered nurse in this month's Q&A by experiencing a day in the life of a local RN; and, find out how some choices in college can affect your career path success down the road.  Plus, you can take the pop quiz to discover if you're a "good" patient, and what it really means to be one.
Equally as relevant to our neighborhoods, it's public knowledge that a mosquito-borne illness has made its way into our backyards.  In this month's column, Polk County Medical Association member and Florida Department of Health in Polk County Director, Dr. Ulyee Choe, fills us in on the dangerous disease and what we can do to protect ourselves and our families.
As we close out the summer, and our children prepare to head back to school, remember to make sure your child's contact information, allergies, and medications list is updated with their institution.  This can easily slip through the cracks amidst other new school year preparations and should always be kept up-to-date in case of an emergency.
Last but not least, we'd like to extend you an invitation to our Fourth Annual Casino Night fundraiser coming up Saturday, October 25, from 6:30 to 10:30 p.m.  The event is hosted by Fields Motorcars Mercedes Benz, 4141 North Florida Avenue in Lakeland.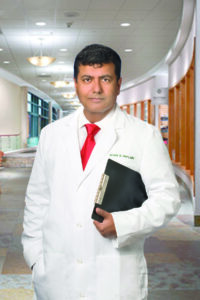 It will be a night filled with casino table games (mock money, don't worry!), a silent auction, music, food, drinks, and more!  Proceeds from this event will go straight to We Care of Polk County and the Polk County Medical Foundation, which helps provide local families in need receive the specialty medical care that they otherwise could not obtain.  Come out for an evening full of fun at an event whose impact will last even after the night is over.  For more ticket or sponsor information, please contact Jackie Courtney in our office at (863) 644-4051 or email director@polkcountydoctors.com.
Sincerely,
Arvind B. Soni, M.D.
Director of Radiation Oncology
St. Joseph's Hospital, BayCare Health System
President, Polk County Medical Association