Everyone knows the old expression "a picture is worth a thousand words."  Well, in the field of medicine, we take special care to look at the big picture of your overall health— not just the symptoms.  As physicians who understand that healthy lifestyle choices are key to a long and fruitful life, it's important to look at all aspects of your daily health routine, including how you care for your teeth.
Research tells us that poor oral health, such as gum disease, often go hand-in-hand with heart disease.  Other chronic illnesses, such as diabetes, can be further complicated with periodontal disease.  Besides the physical complications it can cause, poor oral health can also make a person feel very self-conscious— and even insecure— about their physical appearance.  In this edition of Central Florida Health News magazine, we bring to light how to prevent a small problem from becoming a big one.  Plus, a couple of our PCMA members, Dr. Karen Teston and Dr. Kenny Nguyen, weigh-in on the topic.
Dr. Teston, a psychiatrist from Watson Clinic, discusses how we might help someone with fears or phobias of going to the dentist; and Dr. Nguyen, a pediatrician with Bond Clinic, addresses how he helps his patients with their oral health prevention during a well-child visit.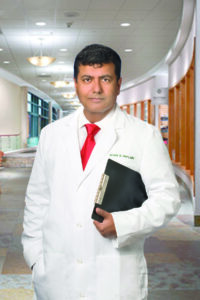 I also recommend the article on how to protect your family and friends from potential poisonous materials in the home.  It's essential to make sure medications, household cleaners, and other potentially hazardous items are kept in a safe place, as well as know what to do if an emergency occurs.
As always, the physicians of the Polk County Medical Association are here to help you live a safe and healthy life, so we hope you enjoy this edition of Central Florida Health News magazine.
Sincerely,
Arvind B. Soni, M.D.
Director of Radiation Oncology
St. Joseph's Hospital, BayCare Health System
President, Polk County Medical Association